3DMark 11 record broken by 'Hazzan', uses 4-way GEFORCE GTX 680s
Indonesian overclocker 'Hazzan' overclocks 4-way GTX 680 setup, breaks 3DMark 11 record.

Published Wed, Jul 4 2012 4:24 AM CDT
|
Updated Tue, Nov 3 2020 12:28 PM CST
Hazzan, an Indonesian overclocker has broken the world record for overclocking graphics cards, using 3DMark 11. Hazzan used a 4-way GEFORCE GTX 680 setup, pushing a score of P33190, 39 points ahead of the previous record.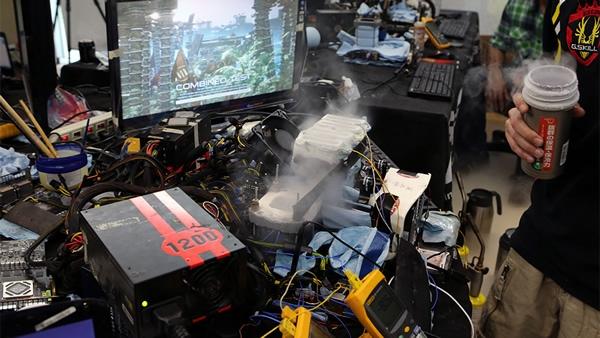 In order to get the record-breaking score, Hazzah had to go to some pretty serious lengths, as you can see from the pictures. He stood over his PC with an open bottle of liquid nitrogen (as you do), and kept pouring some in every few minutes or so, just to keep those pesky temps down. His entire rig consists of:
The platform included Core i7-3930K processor (oc'ed to 5784MHz), 8GB quad-channel GSkill DDR3 memory (oc'ed to 2480MHz), Antec High Current Pro 1200W power supply, ASUS Rampage IV Extreme mobo and ASUS GTX 680 DirectCU II graphics card. The CPU and graphics adopted liquid nitrogen cooling.
Hazzah broke the record at the ROG Absolute Zero Extreme OC event.
Related Tags