Windows 7 has surpassed 50-percent of the global OS market share
Windows 7 surpasses 50-percent of the global OS market share.

Published Tue, Jul 3 2012 12:11 AM CDT
|
Updated Tue, Nov 3 2020 12:28 PM CST
According to the latest data from analytics company, StatCounter, Windows 7 has gained more than half of the worldwide operating system market, for the first time ever. Windows 7 had officially surpassed Windows XP as the most popular OS choice globally back in October of 2011, but this is the first time that Windows 7 has passed the 50-percent mark.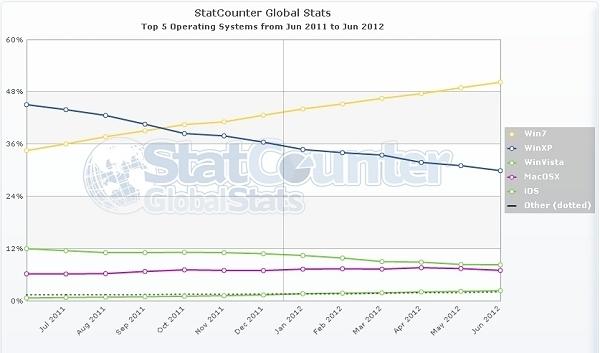 StatCounter's data shows that Windows Vista still holds third place, just, with 8.32-percent market share, but Apple's Mac OS X has been making a sprint for third position, sitting at 7.05-percent at the end of June. If Apple continues with this slight jump, they should overtake Windows Vista as the third position by the end of the year.
But, as with all analytical data, there are other sides and companies working at it. Net Applications claims that Windows XP still holds 43.61-percent of the OS market, with their data showing that XP edges out Windows 7 ever so slightly, with Windows 7 sitting at 41.59-percent.
Related Tags