VIA shows off VE-900 Mini-ITX powered MakerBot 3D printer - we print the "TT" logo
3D printing goes back to the 1980's, but it's our first time to see it. In a word, impressive.
Published Jun 27, 2012 3:57 AM CDT
|
Updated Tue, Nov 3 2020 12:28 PM CST
1 minute & 16 seconds read time
Earlier on today we visited the VIA Technologies headquarters here in Taipei where we got our first up, close and personal look at 3D printing.
VIA had a demo of its 3D printing station earlier this month at Computex, but we didn't have enough time at this stage to stick around and see a full print. We were invited back to the VIA offices today where we got our first look at 3D printing. Although not a new technology, guys were first messing around with 3D printing back in the 1980's, it's our first time to see it in person, and for me personally, I'm impressed.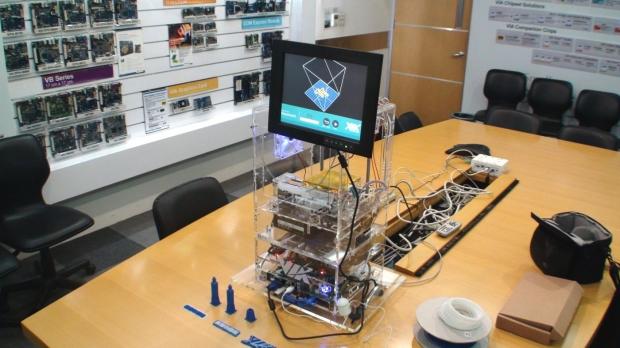 VIA hooked up one of their VE-900 Mini-ITX motherboards to a MakerBot Thing-O-Matic 3D printer along with a customised VIA user interface all displayed on a touch-screen panel. We are told the VIA user interface here is much more advanced than the standard 3D printing interfaces and it provides advanced ability such as providing Dropbox connectivity and more. It's a nice interface to use too with clear menus and information provided on screen such as the device temperatures and so forth.
[img]2[/img]
VIA asked us to provide them with our TweakTown logos and we provided them. The logo is first converted from a regular image file (in our case a PNG file) to an STL file and then the software converts the STL file into a GCODE file which is suitable for 3D printing. You also have different print quality settings, we used the time saving mode which as the name suggests prints the quickest, but not in as much detail.
[img]3[/img]
In the video above you get a look at the system printing out the "TT" part of our logo. I encourage you to watch the video if you have never experienced 3D printing, it's super cool if I may say so myself.
Related Tags