New reality show to be based on Mars, $6 billion cost to establish permanent colony by 2023, Snooki will be too old by then
A Dutch company wants to establish a permanent colony on Mars by 2023, Mars-based reality show to ha.

Published Wed, Jun 27 2012 3:27 AM CDT
|
Updated Tue, Nov 3 2020 12:28 PM CST
Ever wished there were a reality show that wasn't based on this planet? Well, just wait another decade and your wish might just come true. A Dutch company is determined to establish a permanent colony on Mars, and is looking to spend $6 billion doing so.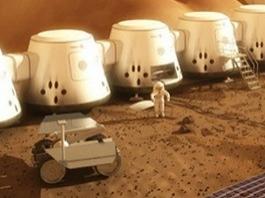 The plans for a reality show is grandiose, with the project dubbed 'Mars One', and will drop four astronauts on Mars in April 2023, with none of them ever returning to Earth. In order to pony up $6 billion for this venture, the project is set to stage a media spectacle like the world has never, ever seen previously. An interplanetary reality show, along the lines of Big Brother.
Theoretical physicist and Nobel laureate Gerard 't Hooft, an ambassador for Mars One, has said in an introductory video posted on the company's website:
This project seems to be the only way to fulfill humanity's dream to explore outer space. It is going to be an exciting experiment. Let's get started.
Mars one has a goal for 2016, where they hope to launch a communications satellite and a supply mission to Mars, after which they'll send a large rover to Mars in 2018. The rover will scout suitable sites for the Mars colony. The company will then launch settlement components, consisting of habitat units, life-support equipment and another rover, two years later in 2020. The two rovers will then prepare the settlement for the arrival of the first humans to touch down in Mars in 2023.
Mars One has reportedly talked with a number of private spaceflight companies around the world, and have secured at least one potential supplier for each colony component. The company plans to launch many components on SpaceX's Falcon Heavy rocket, which is expected to be the world's most powerful launch vehicle once it lifts off. The Falcon Heavy is still in development, with a rumored take off test flight coming as early as next year.
The sad thing? It takes a Dutch company, and not someone like NASA to do this. We should've been on Mars many years ago now. Considering we went to the Moon nearly 50 years ago now.
Related Tags