Apple changes their website, doesn't state OS X is "virus-proof" anymore
Apple's website used to state OS X didn't "get PC viruses", but has since changed it to "it's built

Published Tue, Jun 26 2012 10:27 PM CDT
|
Updated Tue, Nov 3 2020 12:28 PM CST
Over the last few months Apple have been getting hit with negative press over their OS' security, with hackers and the such gaining access to user files in less than thirty seconds, which is a concern as Apple used to always push that their operating system never got PC viruses.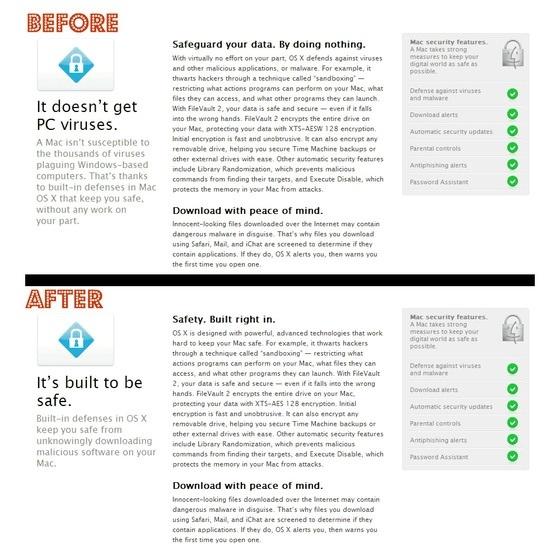 But, Apple continued to run with the "I'm a Mac and I'm a PC" campaign, where they focused on the "fact" that Windows-based systems got viruses, while OS X-based systems couldn't. But now that we know that is complete BS, Apple have done what they do best, marketing and using its legal system to remove any proof so that potential liability for the company is wiped away.
As you can see in the picture above, Apple used to state that a "Mac isn't susceptible to the thousands of viruses plaguing Windows-based computers. That's thanks to built-in defences in Mac OS X that keep you safe, without any work on your part". So Apple more or less said that you just run the OS and you're protected, but for years we've known this isn't true.
Most problems these days are within your actual browser, malware, Facebook links and groups, your data is shared, scraped and thrown around with [mostly] your permission anyway. 9 out of 10 people I know do this, and wonder why their system runs slow, has problems, or why their account gets hacked (e-mail, Facebook, bank accounts, and more).
Related Tags