Google updates Google Play to give developers the ability to reply to comments
Google updates Play Store to allow developers to respond to user reviews and comments.
Published Jun 21, 2012 1:32 PM CDT
|
Updated Wed, Jul 27 2022 3:36 AM CDT
1 minute & 25 seconds read time
Now when viewing apps in the Google Play Store, users will be able to see developers' responses to user comments and reviews. It's something that should have been instituted from the very beginning and it's surprising that it took them this long to add it. It's a feature that can be seen in action on Newegg's review system and, quite frankly, it works great.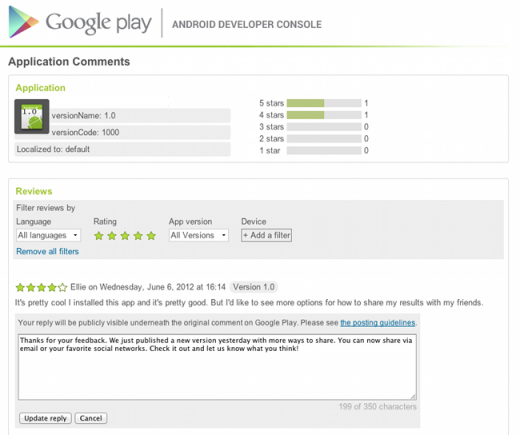 Google Play Project Manager Ellie Powers:
User reviews on Google Play are great for helping people discover quality apps and give feedback to developers and other potential app users. But what about when developers want to give feedback to their users? Sometimes a user just needs a helping hand, or perhaps a new feature has been added and the developer wants to share the good news.

That's why we're adding the ability for Google Play developers to respond to reviews from the Google Play Android Developer Console. Developers can gather additional information, provide guidance, and - perhaps most importantly - let users know when their feature requests have been implemented.
The feature won't be available to every developer quite yet. Only developers who have a "Top Developer" badge will be given access to the feature for right now and they will be able to test it out. When a developer responds, an e-mail is sent to the user who placed the comment or review to alert them of the response.
This will aid in providing support as well as the fact it will yield better apps. The quote "Conversations are meant to be two-sided, and facilitating discussion between developers and users will ultimately yield better apps, to the benefit of everyone" really sums up nicely the reason behind this update.
Apple better take notice of this new feature or they could be left behind. Social equals engagement and allowing developers to connect with the users on a platform they both spend a lot of time using could really improve the quality of the apps created. How often do users remove an app because of a simple user mistake or an easy to fix error? More often than you would think.
Related Tags