If you'll remember back to our pre-Computex coverage, we explained how there would be a panel of overclocking experts at GSKILL's booth. Those overclockers weren't just there to look good and answer questions; they were actually overclocking and attempting for some world records. During Computex 2012, they managed 5 new world records.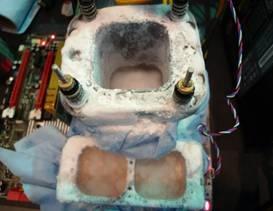 Super Pi 32M - 4mins 44.734sec
With the astonishing G.SKILL memory speed of DDR3 2646MHz CL5-9-7-18 1T, the two legendary overclockers, Fredyama-san and Shamino have both achieved the super fast Super Pi 32M score at 4mins 44.734sec with ASUS Maximus V Formula motherboard and Intel Core i7 3770K CPU.
Memory Bandwidth - Read Speed: 32,339 MB/s
With the amazing G.SKILL TridentX memory speed of DDR3 2900MHz CL10 1T and sophisticated sub-timing adjustment, extreme overclocker, Hiwa Pouri, set a new memory bandwidth world record at 32,339 MB/s read-speed, with ASUS Maximus V Formula motherboard and Intel Core i7 3770K CPU.
3DMark 11- 31299
With G.SKILL RipjawsZ ultra fast DDR3 memory running at 2468MHz CL10, the world's best 3DMark overclockers, Kingpin and Duck-san, broke the 3DMark 11 world record with an incredible score of 31299. This monster machine consists of EVGA X79 EVGA CLASSIFIED motherboard, 4x EVGA CLASSIFIED GTX680 graphic cards, EVGA NEX CLASSIFIED 1500W PSU and Intel 3930K Core i7 CPU.
16GB DDR3 Memory Speed - DDR3 3286MHz CL11
Using the best-in-class G.SKILL TridentX 2800MHz 16GB DDR3 memory, ASUS Maximus V Formula motherboard and Intel Core i7 3770K CPU, extreme overclocker Hiwa Pouri once again achieved the ultimate DDR3 3286MHz speed record with a 16GB ultra high density kit.
The Fastest DDR3 Memory Frequency- 3842MHz
During the overclocking live show at Antec booth, the renowned overclocker at HKEPC, John Lam, also broke the DDR3 memory frequency world record with extreme speed of 3842MHz, using G.SKILL TridentX memory and Gigabyte GA-A75-UD4H motherboard. This impressive achievement has been validated by CPUZ and is also currently listed as the top score of the highest RAM frequency reached.
The results are incredible. It takes a lot of skill to become one of these top overclockers which is why they fared so well in regards to setting new records. It's only a matter of time before new hardware and newer overclocking techniques come out which will manage to beat these scores. And trust me, I'll be there to report it.