I got a chance to speak with the Director of Marketing over at Marvell and got the scoop on their new wireless chip. What can only be described as the way of the future, the new Avastar 88W8897 is an incredible chip. Marvell is often the wireless provider for smartphones, gaming consoles, and other embedded systems, but is targeting the PC market with this new chip.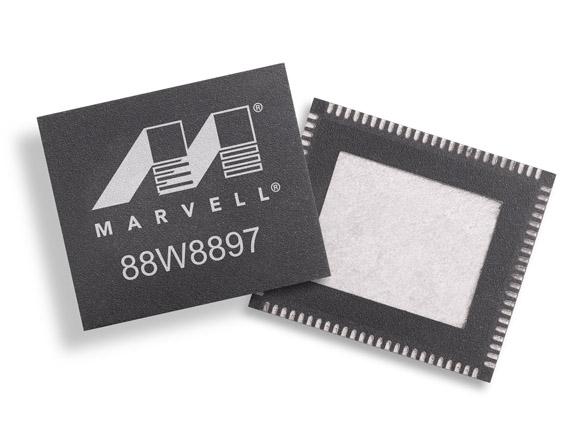 The new chip is the world's first MIMO 802.11ac wireless solution. MIMO is used on products which feature multiple antennas. The 88W8897 features two antennas and two spatial streams which provide an incredible 867Mbps transfer rate. The new solution also provides Bluetooth support and near-field communication (NFC).
The Director of Marketing explained to me the usefulness of having NFC support in a wireless chip. In case you don't know, NFC is what is being used in those credit cards that don't have to be swiped or in phones that allow you to pay by waving them over a sensor. I won't bore you with how it works, but I will explain the usefulness in having it in a wireless chip.
Basically, Marvell envisions a world where a wireless device can be swiped over an access point to authenticate and join the network. The same idea goes for Bluetooth in that a device can be swiped over the other to be paired. This makes it so people don't have the tedious process of pairing or the need to remember wireless keys.
The new chip is also low power which will allow for an always on, always connected notebook. The example given to me was this: imagine walking into a coffee shop and ordering a drink. By the time you sit down and open your Ultrabook, your e-mail, Facebook, and RSS feeds have already been updated. The future is awesome.
The key features, as provided by Marvell, are as follows:
802.11ac - This standard significantly increases bandwidth available over the Wi-Fi link, extending wireless capabilities to a variety of new use cases such as reliable high-definition (HD) video streaming, tunneled direct link setup (TDLS) and high-speed wireless backup and sync for mobile devices. Leveraging 802.11ac, Marvell's 88W8897 chip delivers up to 867 Mbps of throughput and is ideal for home digital applications, enabling a robust multi-stream HD video experience. Additionally, 802.11ac allows for high speed data sync, which results in lower power consumption and longer battery life.

NFC - As a pivotal component of Marvell's 88W8897 combination radio chip, NFC simplifies the pairing of two wireless-enabled devices and the technology can replace credit cards when deployed in portable devices. Used as an out-of-band authentication channel for other radios, NFC enables a one-tap pairing experience for Wi-Fi and Bluetooth. Additionally, NFC allows consumers to pay for items with the tap of a phone via mobile commerce and point-of-sale (e-wallet) applications.

WI-FI CERTIFIED Miracast - Designed to support WI-FI CERTIFIED Miracast, expected to be certified later this year, and 802.11ac, along with Marvell's dynamic rapid channel switching (DRCS) technology, the 88W8797 allows consumers to stream video from their ultrabook or tablet to a larger display in 5GHz while simultaneously surfing the Internet without losing the connection in 2.4GHz.

Integrated Location Engine - A Wi-Fi location engine enables accurate indoor positioning by implementing the 802.11v time of flight protocol in hardware. Used in conjunction with other navigation aids such as GPS and sensor data, products integrating the 88W8797 will feature a rich set of location based services for app developers and retailers.
The new chip will be shown off at Computex 2012 in Taipei. Marvell has been kind enough to send over an infographic to further explain why this wireless chip is important. I can't wait to see Ultrabooks built using this wireless chipset. Like I said before, the future is awesome.
[img]2[/img]