Google's $199 tablet is here, dubbed Nexus 7, sports Tegra 3, Android 4.1 Jelly Bean and is HD ready
Google's $199 tablet, Nexus 7, is here, sports Jelly Bean, Tegra 3 and more

Published Wed, May 30 2012 9:28 PM CDT
|
Updated Tue, Nov 3 2020 12:28 PM CST
Google Nexus 7, get to know it, because it's going to be something quite big over the coming months. Nexus 7 is a 7-inch tablet with a 'HD Ready' 1280x800-pixel screen, NVIDIA's 4-PLUS-1 Tegra 3 SoC which clocked in at 1.3GHz and is manufactured by ASUS.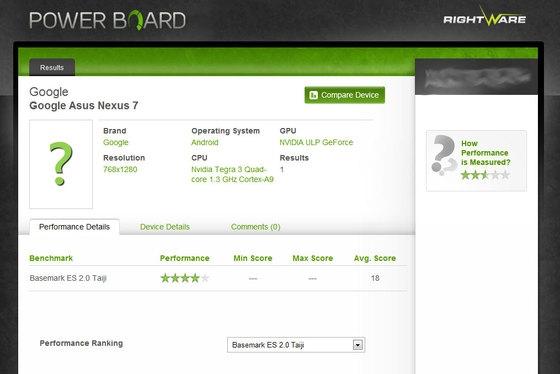 It features a five-point multi-touch hardware-accelerated screen, which takes advantage of Tegra's fifth 'companion' core and Synamptics IP. Pixel density on the Nexus 7 is a little higher than 215 pixels per inch.
Being a Google device, it sports the very latest version of their mobile OS, Android 4.1 Jelly Bean. It has been previously reported that Android 5.0 would be Jelly Bean, but it seems Google is outfitting their $199 tablet with the latest deliciously-named OS. Android 4.1 is the next step from Google, with Android 4.2 being the step after.
It also includes OpenGL ES, the latest version released by the Khronos Group, but performance is not up to the usual Tegra 3-powered devices, with Rightware's Taiji OpenGL ES 2.0 test having a frame rate of just 18fps.
But for this price, who can complain? We hope to see more news on this in the coming days, and weeks.
Related Tags