Google removes a massive 250,000 links per week over piracy, copyright concerns
Google removes an incredible 250,000 links per week from search results due to piracy concerns.
Published Thu, May 24 2012 3:30 PM CDT
|
Updated Tue, Nov 3 2020 12:28 PM CST
Google has given us a bit more insight into the links that are removed from search results as a result of copyright and piracy complaints. The details include which organizations make the request, who actually owns the content, and the top targeted domains. The numbers are actually pretty shocking, so let's just start with one. 250,000. That's the average number of links taken down per week.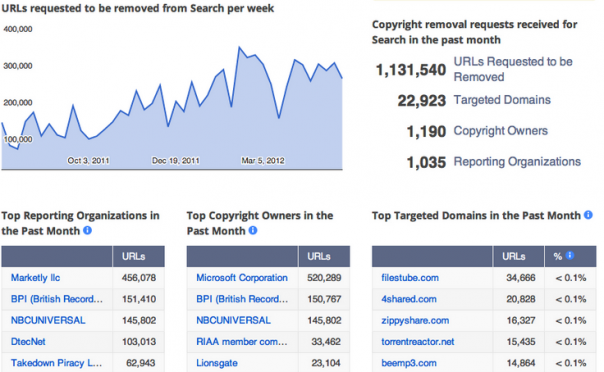 That 250,000 number is more than the total number of links removed for all of 2009. Even more incredible is the fact that Google's senior copyright counsel Fred von Lohmann says that the majority of requests are legitimate. Most of the requests are for sites that are offering unauthorized copies of software, entertainment or pornography.
Now, another number: 22,923. That's the number of sites that were targeted last month. Those sites generated over 1.1 million take-down requests. The illicit content was owned by just 1,190 people. This means, on average, each copyright owner had roughly 1,000 links removed over the past month. But, the numbers show that the average is extremely skewed.
What I mean by that is just over 520,000 URLs hosted Microsoft-owned content. Just under half of the removed links were due to Microsoft. This data should be extremely useful in the continuing debate regarding online piracy. The numbers should help Google and others fight off another SOPA should one be introduced as legislation. Google hopes that policy makers will consider the data when evaluating copyright law.
Related Tags