News on Google's augmented reality Glasses hasn't been strong since they were teased a few weeks ago, but CEO Larry Page was spotted rocking the Glasses in London. The pictures you see below are thanks to a Google employee, where they posted them on Google+.
The employee wrote alongside his pictures "My life is now complete - met Larry Page today! Thank you for visiting EMEA". Google's Glasses project is quite big, as its the company's first jump into cutting-edge hardware.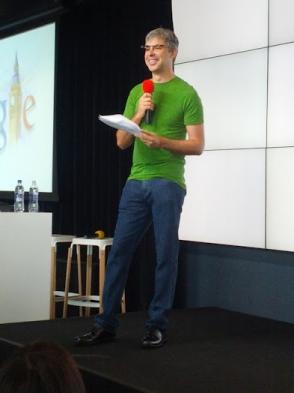 On top of this, thanks to the acquisition of Motorola yesterday, we should see Google's hardware division strengthened considerably. The best picture is the one above, where I think Page is laughing at the Facebook share prices tanking, as a layer in front of his eyes thanks to the Glasses, but that's just my guess.