Jury finds Google did not infringe on Oracle patents with Android
Google found not guilty of infringing on any Oracle patents.
Published Wed, May 23 2012 1:27 PM CDT
|
Updated Tue, Nov 3 2020 12:28 PM CST
It what can only be considered a win for programmers around the country, Google has been found not guilty of infringing on Oracle's patents. It took the jury an entire week of deliberations to come to this conclusion. Of the eight claims across two patents, RE38,104 and 6,061,520, Google was acquitted of every single one.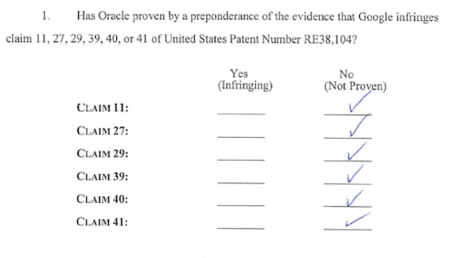 Now that we have this decision, there is no need for the trial to move onto the damages phase as there are no damages to be awarded. The jury is no longer needed in the trial as the final decision as to Fair Use has been left to Judge Alsup to decide. The judge thanked the jurors and dismissed them adding that "this is the longest trial, civil trial, I've ever been in."
Google had been found to be infringing on Oracle's copyrights on a couple of counts, but it is unclear whether or not this was fair use. The jury was unable to decide unanimously if it was. The jury found Google guilty of just one count of infringement, but Judge Alsup later ruled they infringed on 8 other minor counts.
Judge Alsup still has to render a ruling on whether or not the SSO of the Java APIs can be copyrighted or not. Judge Alsup is set to receive briefs from both legal teams within the next hour, though its not apparent when the actual verdict will be rendered. He is also taking the next two days off for personal reasons. We will continue to keep you posted on the latest happenings in this trial.
Related Tags