RunCore launches Xapear SSD with Remote Data Deletion and RFID Protection
RunCore releases an SSD with RFID data protection and remote data deletion.
Published Wed, May 23 2012 12:32 PM CDT
|
Updated Tue, Nov 3 2020 12:28 PM CST
Apparently a self-destructing SSD wasn't enough protection for RunCore as they have just announced the global availability of their new Xapear solid state drive. The new Xapear features some even more innovative features to protect a user's data than just self-destructing. It provides both remote data deletion and RFID protection.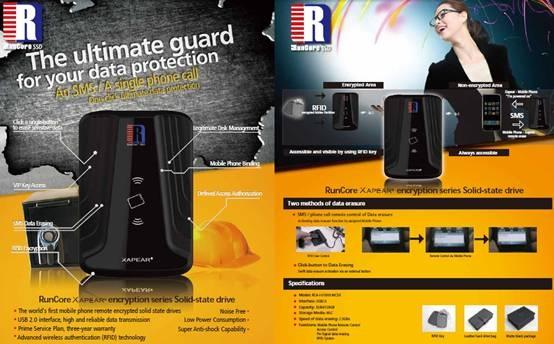 The SSD uses a USB 2.0 interface for data transfer. The drive features two partitions: one freely accessible and one that is only accessible after applying a special RFID key. Xapear comes with two RFID keys that are initialized by the user. After initialization, users have two partitions which can be resized to user preference. One swipe of the RFID key and the hidden partition becomes visible and usable. Another swipe and it is gone.
The drive also features a GSM connection:
GSM communication is provided for by an integrated SIM card. User then can link this SIM card one specified and self-defined mobile phone. Only this pre-defined mobile phone will be able to detect drive access. Furthermore, the mobile phone can remotely send a data deletion command to the drive, telling it to overwrite all data, rendering it impossible to recover previous data.
These new data protection features come at a time when more and more sensitive data is being carried with a user. The number one cause of data compromise is physical loss of a device through theft or carelessness. As such, the hidden drive and the ability to remotely wipe a drive are two unique features which will protect a user from the damages of physical loss.
Related Tags