Kinect for Windows 1.5 is here, includes facial movement tracking
Kinect for Windows 1.5 includes facial movement tracking.

Published Tue, May 22 2012 3:17 AM CDT
|
Updated Tue, Nov 3 2020 12:28 PM CST
Microsoft have announced that they've released version 1.5 of the Kinect for Windows runtime and SDK. They've also announced that Kinect for Windows hardware is now available in Hong Kong, South Korea, Singapore, and Taiwan.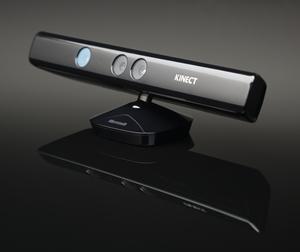 As of next month, Kinect for Windows hardware will arrive in 15 more countries: Austria, Belgium, Brazil, Denmark, Finland, India, the Netherlands, Norway, Portugal, Russia, Saudi Arabia, South Africa, Sweden, Switzerland and the United Arab Emirates. Once this is done, Microsoft will have Kinect for Windows available in 31 countries around the world. The company have also added more capabilities to Kinect that help developers build amazing applications:
Kinect Studio, our new tool which allows developers to record and play back Kinect data, dramatically shortening and simplifying the development lifecycle of a Kinect application. Now a developer writing a Kinect for Windows application can record clips of users in the application's target environment and then replay those clips at a later time for testing and further development.

A set of Human Interface Guidelines (HIG) to guide developers on best practices for the creation of Natural User Interfaces using Kinect.

The Face Tracking SDK, which provides a real-time 3D mesh of facial features-tracking the head position, location of eyebrows, shape of the mouth, etc.

Significant sample code additions and improvements. There are many new samples in both C++ and C#, plus a "Basics" series of samples with language coverage in C++, C#, and Visual Basic.

SDK documentation improvements, including new resources as well as migration of documentation to MSDN for easier discoverability and real-time updates.
On top of this, they've improved the skeletal tracking capabilities:
Seated Skeletal Tracking is now available. This tracks a 10-joint head/shoulders/arms skeleton, ignoring the leg and hip joints. It is not restricted to seated positions; it also tracks head/shoulders/arms when a person is standing. This makes it possible to create applications that are optimized for seated scenarios (such as office work with productivity software or interacting with 3D data) or standing scenarios in which the lower body isn't visible to the sensor (such as interacting with a kiosk or when navigating through MRI data in an operating room).

Skeletal Tracking is supported in Near Mode, including both Default and Seated tracking modes. This allows businesses and developers to create applications that track skeletal movement at closer proximity, like when the end user is sitting at a desk or needs to stand close to an interactive display.
You can read more about it over at the Kinect for Windows blog.
Related Tags