Netflix took a pretty big hit last year when it announced pricing changes to its plans. However, today a Netflix executive has come out and said that he believes they have taken the brand hit from those changes. Netflix has rebounded in the first quarter, but scared off investors slightly with talk of its competitors.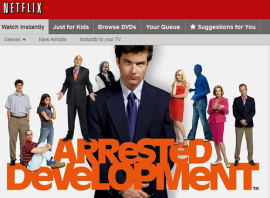 Netflix CFO David Wells spoke at the J.P. Morgan Technology Media and Telecom conference and talked about customer satisfaction, churn, and overall feeling towards Netflix. As Netflix nears the one year mark of the changes that consumers hated, CFO paints a bright future through the fact that one third of new customers are actually returning customers:
I think we're feeling really good about the brand, the progression that we had from last year. We think there's room to grow, but the improvements in retention and our growth in Q1 and Q2 since Q3 and Q4 of last year make us feel pretty good. Rejoined or folks rejoining the service still remain about a third of our new subscribers that are coming in. So that is an encouraging stat. We think, we've said before that the brand hit will take years to recover from and I think that's still true, with the bulk of the recovery coming in the full year and I think we still feel that way.
A customer falls into the category of a returning new customer if they rejoin within a year. As new customers sign up, Netflix compares the address and credit card data to previous customers. This previous customer data is kept for about a year. Wells also believes the negative PR will "dissipate over time."