Samsung GALAXY S III battery life is quite impressive, holds its own against tablets
Samsung's flagship GALAXY S III has had some tests on its battery life, comes out with top marks.

Published Wed, May 16 2012 2:08 AM CDT
|
Updated Tue, Nov 3 2020 12:28 PM CST
Samsung's GALAXY S III is nearly here, and whilst the phone sports a 4.8-inch HD Super AMOLED screen, and an impressive 2,100 mAh battery, the battery life itself was questioned. But, GSM Arena have stepped in and thrown the quad-core smartphone through some tests, which are very surprising.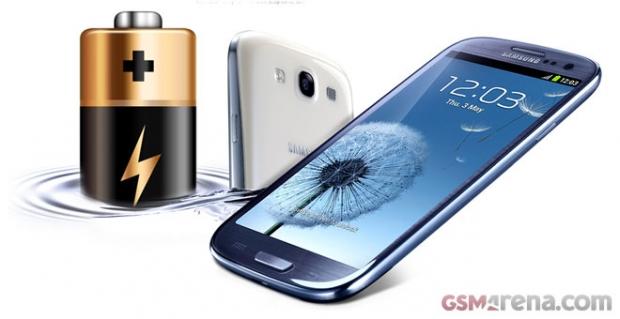 They started with 3G talk time, where the GALAXY S III beats out the iPhone 4S by a large margin, and also beats the HTC One V and S by just minutes. The iPhone 4S sports 7 hours and 41 minutes of 3G talk time, where the GALAXY S III smashes it with 10 hours and 20 minutes, impressive, Samsung. Next up we have web browsing.
During this test, the GALAXY S III only provides 5 hours and 17 minutes of web browsing, compared to the iPhone 4S' very impressive 6 hours and 56 minutes. I'm guessing this is down to the GALAXY S III's much larger screen. Video playback is something very important on smartphones these days, especially something with a 4.8-inch screen. How did the GALAXY S III go against the iPhone 4S?
10 hours and 1 minute for the GALAXY S III, and the iPhone 4S slightly behind with 9 hours and 24 minutes. GSM Arena rounds it up with an "endurance test", where they've given the GALAXY S III a 43 hour endurance rating. This means that you'll need to charge the S III once every 43 hours if you do an hour of 3G talking, video playback and web browsing per day. Quite the achievement! I can tell you I'll be grabbing one of these as soon as I can, I wonder if they'll be available in Taiwan when we're there for Computex...
Related Tags