Apple rebrands LTE iPad, now known as 'iPad Wi-Fi + Cellular'
Apple rebrands current LTE iPad, is known worldwide as the 'iPad Wi-Fi + Cellular'

Published Mon, May 14 2012 2:24 AM CDT
|
Updated Tue, Nov 3 2020 12:28 PM CST
Apple have found a fix for their LTE or "4G" connectivity advertising in their third-generation iPad, where they've misled customers outside of North America.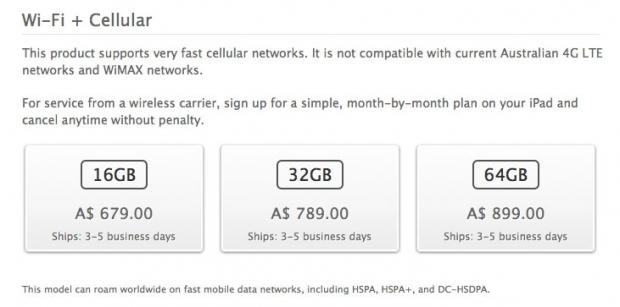 The Curpentino-based company has started to change the names of their LTE iPad model to 'iPad Wi-Fi + Cellular' in its online stores, US and Canada. The change also seems to have rolled out to other stores in the UK and Australia.
This should help those who were wanting a 4G-capable iPad outside of the US, as the new iPad was previously advertised as 'Wi-Fi + 4G', that is, until authorities in the UK, Australia, Sweden and other countries threatened Apple with investigations into misleading advertising. Apple then edited a video and altered the UK website in response to complaints from UK advertising standards authority, and even offered refunds in Australia to those who complained about the lack of "4G" functionality".
The new iPad Wi-Fi + Cellular with its LTE is said to support "very fast" cellular networks, and on the Australian store Apple go on to clarify that it is not compatible with current Australian 4G LTE or WiMax networks. Apple then state in smaller text that the new model can "roam worldwide on fast mobile data networks, including HSPA, HSPA+, and DC-HSDPA".
Related Tags