Nokia Lumia, Apple iPhone are at odds about which smartphone is best, each recommends the other
Nokia Lumia, Apple iPhone believe each other are the best smartphone in a bit of Friday hilarity.
Published Fri, May 11 2012 11:21 PM CDT
|
Updated Tue, Nov 3 2020 12:28 PM CST
As a great way to end the week, we share a story with a bit of hilarity. Many news outlets ran stories today about how, when asked what smartphone is best, Siri recommends the Nokia Lumia 900. While hilarious, it's understandable due to how Siri works. Siri uses Wolfram Alpha for most of its computational knowledge, so it isn't exactly a fair answer since it only uses a few reviews to draw this conclusion.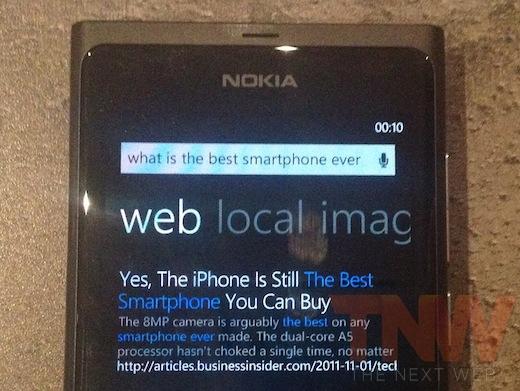 That little fact didn't stop Microsoft from posting about it on their blog, but, as others have pointed out, it doesn't really mean much. It is still funny, as you would think Apple would have thought about it, considering all of the other stuff they have thought about and programmed into Siri.
Even funnier is that when The Next Web asked a Nokia Lumia 800 what the best phone is, it disagrees with Siri. The Lumia 800 uses Microsoft's TellMe service combined with Bing and returns an article with the headline: "Yes, The iPhone Is Still The Best Smartphone You Can Buy." So, apparently the two devices can't decide which of them is better. Both feel the other is.
I fully expect that Apple will update Siri pretty quickly to correct her behavior, something I would call a personality reprogramming. Microsoft may also do something similar, though it seems more in line with Apple's narcissism. Just a bit of humor to end the week for you. Now, return to work, or play, or whatever it is you should be doing.
Related Tags