Bing expands, will sport Facebook, Twitter integration
Twitter, Facebook integration to be included with Microsoft's Bing.

Published Thu, May 10 2012 9:18 PM CDT
|
Updated Tue, Nov 3 2020 12:28 PM CST
Microsoft is rolling out what they are calling "the most significant update to Bing since we launched three years ago". The new update will roll out over the next few weeks as Microsoft introduce a new way to search that is designed to help you take action and interact with friends and experts "without compromising the core search experience".
Microsoft point out that the search industry is built on keywords, links and labels - static nouns pointing to pages. Whilst this approach is great for finding sites, searching is not just about finding information or data, its about taking action. You might search flights, or accommodation, and usually when doing so, you'd like to take action in the form of placing a booking, etc. Microsoft note that 68-percent of people tell them they expect to get something done when they type into a search box.
Bing ups the ante on this, where you're you'll be able to share virtually everything you do, where you are, who you are, all in real-time. The new updated Bing will include a "brand new information architecture" with three columns: the left will feature familiar algorithmic results, the middle provides a "snapshot" of relevant information and services, such as maps and reviews, whilst the sidebar to the right will include social-orientated results.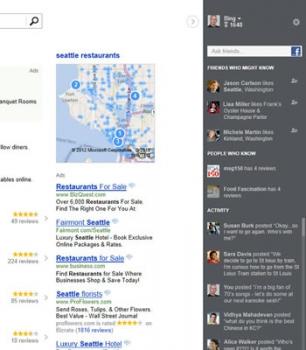 How will it differ from Google for example? Well, you'll be able to share your results and ask someone a question on Facebook, where they can reply through Facebook or Bing. Bing will sport new abilities, so that when you search for something using Bing, it will analyze your query and automatically display the relevant contacts. The new Bing should roll out across the US over the coming days.
Related Tags