Sick of before-movie warnings? Two more anti-piracy propaganda warnings to be shown
Two new piracy warnings are on their way to your DVDs to warn you not to pirate something you own.
Published Wed, May 9 2012 11:34 AM CDT
|
Updated Tue, Nov 3 2020 12:28 PM CST
I will work off the assumption that all of my readers are on the up and up and don't pirate music and videos. Yes, I have high standards for my readers, but it's for the best. Since none of us pirate music or movies, it always annoys me to see the anti-piracy fear campaign before the start of a movie. Apparently it wasn't enough, though, because two new propaganda slides are being added.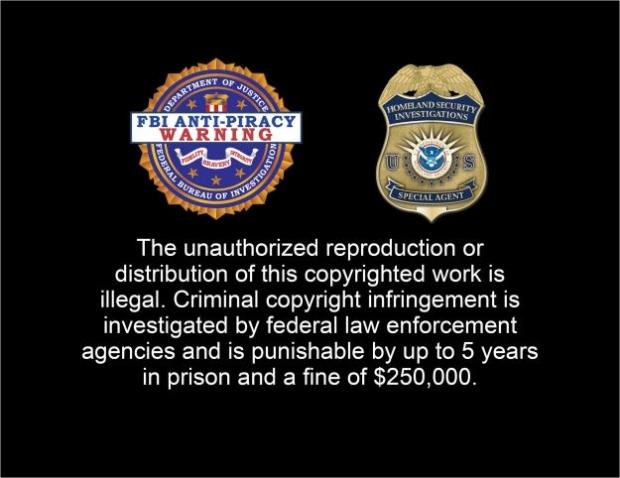 The one above is the traditional fear-based warning. It offers the standard "you could be fined or go to jail if you download this movie illegally" routine. Of course, a $250,000 fine and 5 years in jail is a bit excessive and scary, but at the same time, I don't pirate, so I don't want to see the warning! This one has been brought to you courtesy of the FBI and the HSI.
It reads "The unauthorized reproduction or distribution of this copyrighted work is illegal. Criminal copyright infringement is investigated by federal law enforcement agencies and is punishable by up to 5 years in prison and a fine of $250,000."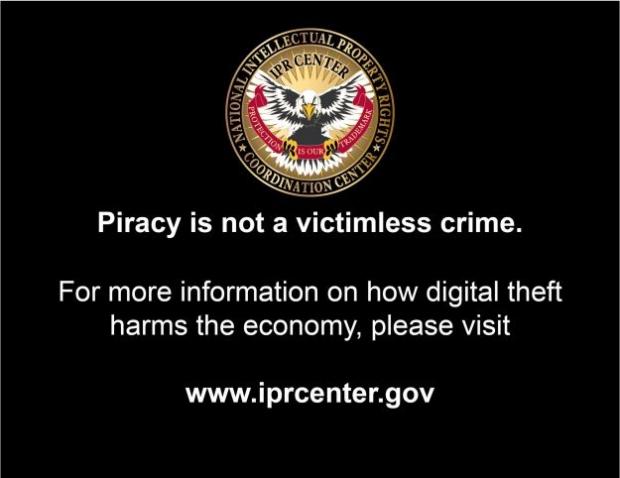 This propaganda showing is a less standard, yet still traditional, showing. It claims that pirating hurts the economy and that it is not a victimless crime. It encourages viewers to set aside their movie and go to www.iprcenter.gov to learn more. "Piracy is not a victimless crime. For more information on how digital theft harms the economy, please visit www.iprcenter.gov."
"Our nation's film and TV business is critical to our economy," said ICE Director John Morton in a statement. "Its creativity and imagination have made American entertainment one of our greatest exports over the decades, but criminals are increasingly engaging in new forms of digital theft. Law enforcement must continue to expand how it combats criminal activity; public awareness and education are a critical part of that effort."
At this point I would like to point out that this is the entirely wrong campaign that they should be running. Think about it: most of the people who will be seeing these warnings have legally purchased or rented the DVD as pirated copies don't usually include these warnings. I guarantee that there are better ways of slowing piracy.
Related Tags