Facebook users browse the site longer on their smartphone than a computer
A new study shows that more time was spent on Facebook using a cell phone than a computer.
Published Tue, May 8 2012 9:02 AM CDT
|
Updated Tue, Nov 3 2020 12:28 PM CST
Social networks really do take up a lot of a user's time as they try to read and respond to everyone. I'm not saying I don't spend my fair share of time of Facebook; I probably spend more than average. However, I mostly access Facebook from a computer. A new study shows that users spend more time accessing Facebook from their cell phone than they do the computer.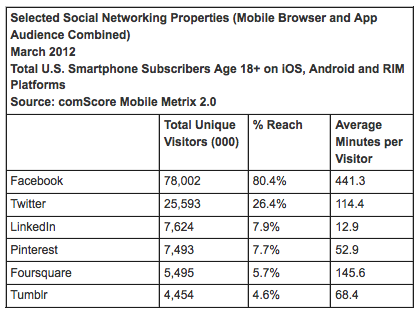 The study says that the average user spent more than seven hours pursuing Facebook via their cell phone, while only spending six doing the same from a computer. This is based off of data for the month of March. "Social networking proved to be a particularly popular activity on smartphones with several brands demonstrating exceptionally high engagement, in some cases higher than the corresponding time spent by users via traditional Web access," ComScore's report says.
It's not just Facebook that is doing well, either. Twitter users spent quite a bit more time on the site via cell phone. Whereas they only spent 20 minutes on Twitter from a computer, they spent on average just about two hours. Wow! Once again, this data is for the month of March. ComScore was able to collect this data using a new mobile behavioral measurement service called Mobile Metrix 2.0.
Related Tags