RumorTT: MacBook Pro to lose optical drive in favor of bigger battery, boot SSD, storage HDD
Rumor: MacBook Pro to lose optical drive, gain larger battery, boot SSD.
Published Mon, May 7 2012 4:28 PM CDT
|
Updated Tue, Nov 3 2020 12:28 PM CST
Rumors about upcoming Apple products are often some of the most interesting and fun as Apple products are often shrouded in security and hard to pin down any detail. As such, many rumors pop up that aren't true but sound reasonable. This rumor could very well fit into this category, or it could end up being true.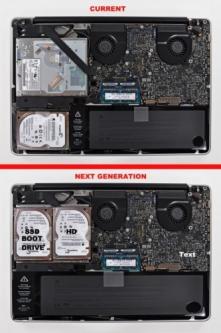 It's important to note that the picture above is a mock-up and not an actual photo of the upcoming MacBook Pro 2012. The rumor we are dealing with today says that Apple will be ditching the optical drive in the next iteration of the MacBook Pro. As Apple has proven the CD-less model works using the MacBook Air, this isn't out of the realm of possibility.
Ditching the optical drive will leave a gaping hole in the chassis, so one might think that the case will get a size reduction similar to the Air. The rumor states that this is wrong and that instead the MacBook Pro will be getting a larger battery along with a second drive. The two drive system would provide one SSD for boot only and a standard HDD for everything else.
A larger battery, somewhere in the neighborhood of 30% more capacity, could provide days of battery life, or support a more pixel-dense display. This rumor seems logical as MacBook Pro users love the larger screen and higher performance processor. The rumor says to expect both of these additions this summer.
Related Tags