Apple's latest patent grab looks like they might move to haptic feedback, reshapes your touchscreen
Future Apple devices could sport haptic feedback.

Published Mon, May 7 2012 3:23 AM CDT
|
Updated Tue, Nov 3 2020 12:28 PM CST
If we were to go off of the patent pictured below, it looks as though Apple haver finally found the perfect way to solve the issue with touchscreen keyboards discarding the physical keyboard in favor of this new technology.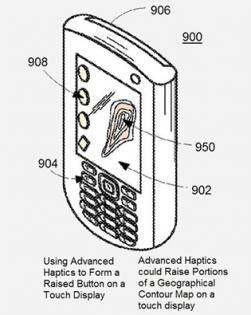 Haptic technology would allow touchscreen manufacturers to deliver physical feedback when a user touches a button, tries to type on the devices on-screen keyboard, or just interacts in general with the screen. No physical keyboard plus haptic technology could be the perfect middle ground.
The current haptics on most smartphones are nothing but a quick vibration, and not a full solution. Apple's way seems to use a combination of flexible OLED display technology and piezoelectric actuators that would, wait for it, actually alter the contour of your screen. This technology would take into account sensor data to determine usage context, providing situationally-appropriate feedback.

This would result in a future Apple device where it would sport a raised surface area for each letter for the on-screen keyboard and would give any software-based input instrument a distinct feel and contour for each key, or button. Once the user is finished typing/pressing, the surface of the screen would return to its normal, flat state.
Related Tags