iLounge are reporting they've received information for the next-generation iPhone, that it would sport a 4-inch display by increasing height of the device. In order to accomodate the tallet screen, the body of the next iPhone will also become slightly taller. We should also see a 20-percent (or so) reduction in thickness. They go on, adding: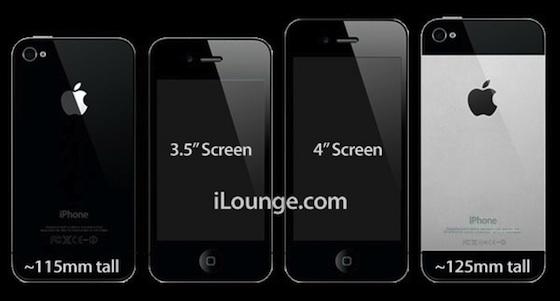 What we've learned: the new iPhone will indeed be longer and thinner than the iPhone 4 and 4S. Approximate measurements are 125mm by 58.5mm by 7.4mm-a 10mm jump in height, nearly 2mm reduction in thickness, and virtually identical width. According to our source, Apple will make one major change to the rear casing, adding a metal panel to the central back of the new iPhone. This panel will be flat, not curved, and metal, not ceramic. Our artist's rendition provides a rough idea of what this change will look like; it echoes the current-generation iMac design, to be sure.

The report also teases of a new dock connector, which is smaller, has fewer pins, and is universal across new devices. Whether this information is true or not, is another story in itself, but it does have a "RumorTT" title, after all. Strange, because I remember the late Steve Jobs saying that Apple's ecosystem couldn't handle a bigger screen. Fingers and thumbs would have to extend, and so would apps and their graphics/UI. But in normal Apple fashion, they eventually catch up and once this is done it'll be marketed as "magical", "resolutionary", and "4-inchary" or something to that effect.