False Alarm: EA is not disabling Rock Band app on iOS, blames message on error
EA is not shutting down access to the iOS app Rock Band, message yesterday was in error.
Published Thu, May 3 2012 6:37 PM CDT
|
Updated Tue, Nov 3 2020 12:28 PM CST
As I reported yesterday, users of the iOS Rock Band app received a message that they would no longer be able to play the game and thanked them for 'rocking out with us.' Users, of course, flipped out and started posting bad reviews on the app and demanding their money back across a plethora of online communities.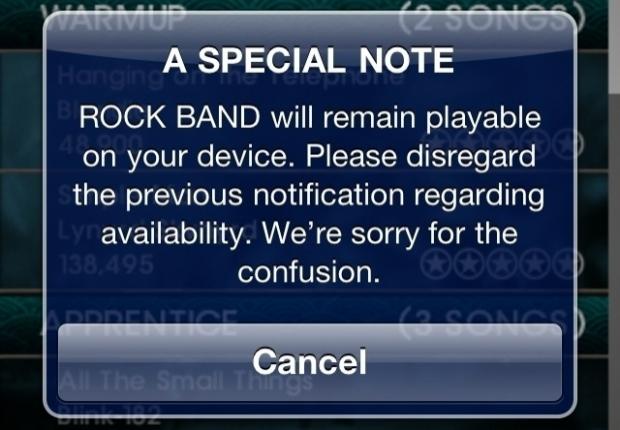 The developers of Rock Band were caught off guard by the message, so they redirected all questions to EA Mobile. Apple additionally directed questions to EA, who remained quiet in the face of it all. EA has finally come out with a statement blaming the message on an error and that the game would still be playable.
Rock Band for iOS will remain live-the in-app message users received yesterday was sent in error. We apologize for the confusion this caused. We're working to clarify the issue that caused the error and will share additional information as soon as possible.
The app itself has also received a similar message in the same manner of the last message. If you're confused how the message got in there by error, you're not alone. I'd like to take this moment to throw out the possibility that EA was indeed shutting the game down, but has reversed the decision due to all of the public outcry.
It could also just be that an employee misinterpreted what shutting down the online servers would do to the game. So as it stands, if you own and play Rock Band on iOS, you will still be able to play it after May 31. It's unclear if EA is still planning to shut down the online servers after the outcry. For the time being, I would still plan on the servers shutting down until you hear differently.
Related Tags