ASUS Fan Xpert 2 video hands-on shows how to do PC cooling fan control right
ASUS have really nailed it when it comes to Z77 software features.

Published Thu, May 3 2012 10:41 AM CDT
|
Updated Tue, Nov 3 2020 12:28 PM CST
So, you might have just saw our video hands-on demonstration of the brilliant ASUS Wi-Fi GO! which is part of most new ASUS Z77 based motherboard that only just came onto the market with the Ivy bridge launch last month. Next up and right here we give you similar treatment, but this time we're looking at ASUS Fan Xpert 2 - a big improvement over previous versions of Fan Xpert.
One of the biggest single features of Fan Xpert 2 is the ability to auto tune the cooling fans inside your case. This software has the ability to check and report back to the Fan Xpert 2 software rather impressive information regarding those fans installed inside your chassis. After you click the "Fan Auto Tuning" button it will run a fan tests that lasts between two and five minutes. While running, this tests measures the maximum and lowest RPM of all of the fans inside your case that are connected to one of the fan headers (3-pin or 4-pin) on your ASUS Z77 motherboard. Once complete, Fan Xpert 2 now has an intimate knowledge of all of your cooling fans and it knows how to dynamically control them based on the CPU temperature as well as let you manually control them to a rather extreme level.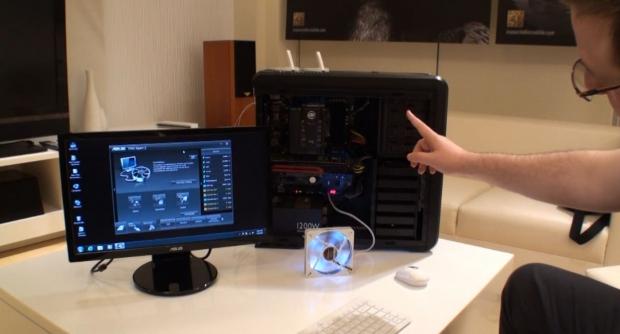 [img]2[/img]
Once the auto tune test is complete, you reach the next screen that allows you to create a name for each fan as well as select their position in your case. For most companies that would have been where things ended, but ASUS perfect the software one step further by implementing a "search" function that allows you to more easily identify the location of the fan. Once you start the search function, the fan in question spins up to 100% RPM, hence making it easier to find. Once you've done that you can enter the Smart Mode area which allows you to change the curve of the fan performance and what RPM level it spins at depending on the system temperature. Not only that, ASUS is claiming they have a world first here that allows you to adjust each individual fan by its RPM in 50 rotations per minute levels.
[img]3[/img]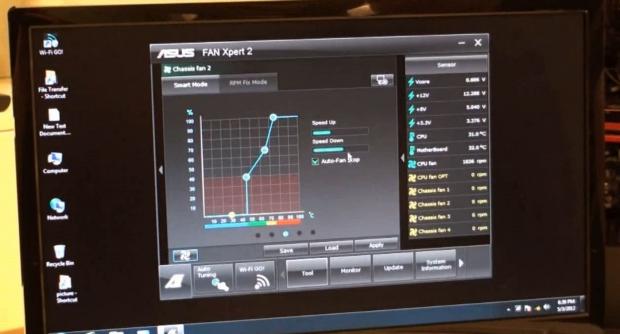 From that same test we ran earlier, you can also find another screen which provides great in-depth detail about each of the fans installed inside your system. It provides accurate data on maximum speed, minimum speed, when the fan will turn on and it's controllable range. Throughout the software, on the right side the sensor chart area stays there and provides real-time reporting of system voltages, CPU and motherboard temperature as well as the RPM speed at each of your fans are running at any given time.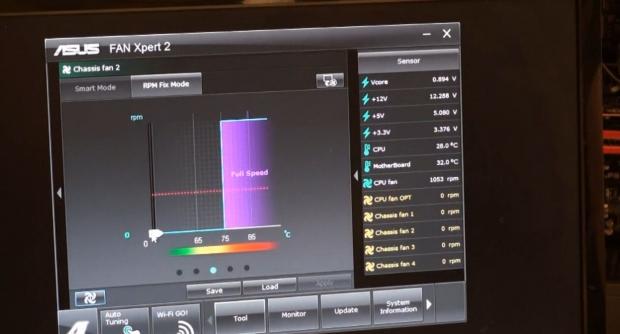 Given the inclusion of Wi-Fi GO! and Fan Xpert 2, these are two rather powerful software additions to the ASUS Z77 package. We didn't give them much thought before, but after having seen both of them in action at the ASUS HQ today, we are impressed.
Related Tags