EA's Rock Band iOS app 'no longer playable' after May 31
Rock Band for iOS 'will no longer be playable' according to an in-app message.
Published Wed, May 2 2012 3:31 PM CDT
|
Updated Tue, Nov 3 2020 12:28 PM CST
In a move that is sure to upset people who purchased Rock Band on iOS, EA has started an in-app announcement alerting players that "on May 31, Rock Band will no longer be playable on your device. Thanks for rocking out with us!" It's not clear whether just the multiplayer is being shut down or if they are going to disable the app.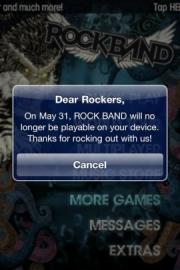 Even better is the fact that the app is still available for purchase without any sort of warning about the May 31 date. Makers of apps are able to remove their apps at anytime from the app store, but the software often remains playable on devices which have it installed. If EA fully disables the software come May 31, there could be bad publicity.
EA has shut down games before. Just last month they announced the shutdown of nearly a dozen titles. "As games get replaced with newer titles, the number of players still enjoying the older games dwindles to a level -- fewer than 1 percent of all peak online players across all EA titles -- where it's no longer feasible to continue the behind-the-scenes work involved with keeping these games up and running," the company said at the time.
It's likely that the game will still be playable locally and will just lack online support. In fact, it's on the list of games that will be losing online support. However, this latest message seems to indicate that the game will be fully shut down come the May 31 date.
Related Tags