UPDATE - winner announcement!
UPDATE - entries are now closed!
Our "Win a trip to Computex Taipei 2012" contest is off to a good start, but what we forgot to do when first announcing the contest was to confirm an end date.
We will stop accepting entries for the contest on May 15th. A winner will be decided and announced on May 21st. At that point we will begin the process of booking flights, etc.
Good luck! And in case you missed it the first time, the full original post is below.
Join the TweakTown media crew as a special Guest Blogger at Computex Taipei 2012 (June 3 - June 10, 2012)!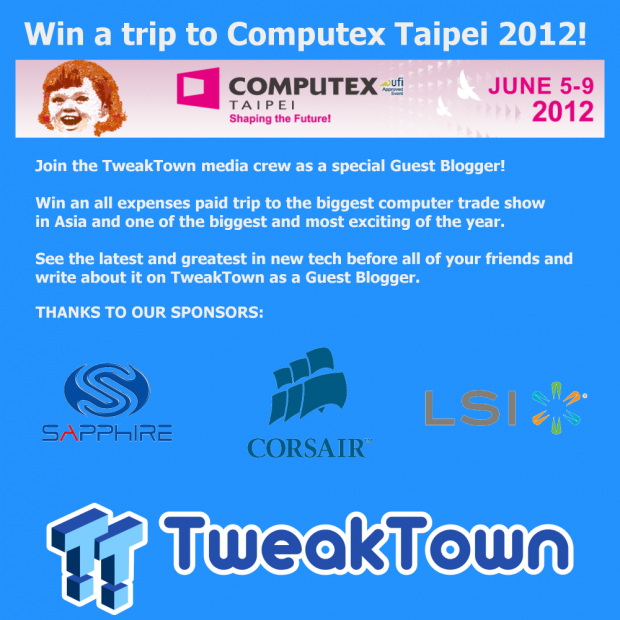 Win an all-expenses paid trip (flight, hotel and daily expenses) to the biggest computer trade show in Asia and one of the biggest and most exciting of the year in the world.
See the latest and greatest in new tech before all of your friends and write about it on TweakTown as a Guest Blogger. You will visit tech companies in the Computex halls and nearby hotels with the TweakTown crew as we check out their new products. You will get a chance to play with those products and even attend Computex media parties and our very own TweakTown party with us. You will get the chance to write about our sponsors new products and we'll publish your posts on the TweakTown front page under your name as a guest blogger.
The winner will be flown to Taiwan in June and experience Taipei and Computex. The winner may even take home some tech goodies from our sponsors including Sapphire, Corsair and LSI and maybe even some other goodies from the other companies exhibiting at Computex.
We'll even show you the Taipei 101 building and if you are game, you could take your chances and try some stinky tofu!
STEPS TO ENTER (Facebook):
1) Share this Facebook post on your wall and make sure the post is set to PUBLIC so we can verify.
2) LIKE the Facebook contest post.
3) LIKE the TweakTown Facebook page.
4) In this post, reply and tell us in 100 words or less why you should win a trip to Computex.
5) Like this news contest post, feel free to share it, too. It can't hurt!
STEPS TO ENTER (Twitter):
1) Retweet the the contest tweet post.
3) Tell us in 100 words or less why you should win a trip to Computex - format: "#TTComputextrip I should win a trip to Computex Taipei 2012 because... via @TweakTown"
- If you do not include @TweakTown or the #TTComputextrip hash tag, we will not be able to track your entry and you won't be entered)
4) Like this news contest post, feel free to share it, too. It can't hurt!
Note: you can apply to enter on Facebook and Twitter, but only one social media site entry is required. Double up your chance by entering on both!
CONDITIONS:
1) You need to own or have access to a good quality digital camera and bring it with you to Taiwan. No need for a laptop, you will have access to the Computex press rooms as authorized press.
2) You are responsible for arranging your visa (but we'll pay for the cost of it) if you are from a country which requires one to enter Taiwan. You need to be free to travel from June 3, 2012 till June 10, 2012.
3) Anyone in the world may enter and you must be 18 years of age or older and able to deal with big crowds, be of good health and be able to move around all day.
4) English isn't required to be your first language, but you must have at least a good to high level of the English language (written and spoken).
5) We will book your flight, hotel and travel insurance for you and send you all the required travel documents. You just need to be at your airport on time for the flight. You will be met at the Taipei (TPE) airport by a TweakTown staff member.
6) If you are a selected winner, you will be required to send us your photo as well as a short introduction about you and who you are and what you do. We will call you and chat with you before confirming the winner.
7) Tweak Town Pty Ltd will pay for your travel insurance, return flight, hotel accommodation and daily expenses including taxis, food and drinks.
8) At the start of each day you will be given an allowance (cash) to cover those daily expenses mentioned above.
9) Tweak Town Pty Ltd is not responsible for paying any other expenses besides the aforementioned such as but not limited to injury, death, theft and sickness and the like.
10) You will be required to sign an agreement with Tweak Town Pty Ltd covering the terms and conditions of the sponsored trip.
11) Must be prepared to have a blast in Taiwan for Computex with the TweakTown team!
GOOD LUCK!