It's been everywhere, and I was even sitting down this morning playing with my gorgeous 13-month-old daughter this morning when I saw people standing behind the Sunrise crew on Channel 7 here in Australia, with black cardboard signs in their hand stating "WAKE UP".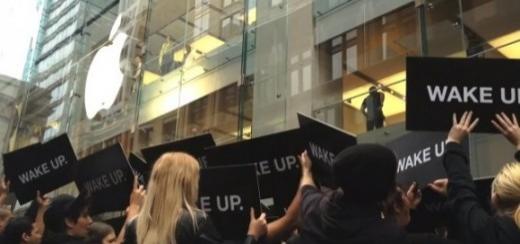 We've heard it was Samsung behind this, as a campaign for their GALAXY S III possibly... but it's not. Research in Motion (RIM) have admitted that they're the company behind the controversial anti-Apple 'Wake Up' campaign. RIM issued a statement this morning through its PR firm, where they've said:
We can confirm that the Australian 'Wake Up' campaign, which involves a series of experimental activities taking place across Sydney and Melbourne, was created by RIM Australia. A reveal will take place on May 7th that will aim to provoke conversation on what 'being in business' means to Australians.
The campaign caught the eyes and ears of people last week when a flashmob of 'protesters' took to an Australian Apple Store to protest the use of the company's products. The group chanted "wake up", held placards that said the same message, where other protesters dressed as a sheep as another dig at Apple, popular products and cult following. The reason behind the campaign is due to be unveiled at 3:00pm on May 6, but what to expect, we don't know.
RIM has been in enough problems lately, I truly don't think they need to be running around like this. If anyone from the 'Wake Up' campaign reads this, shoot me an e-mail, I'd definitely like to do a quick interview with you and post it up as news. First question: do you own an iPhone?