91% of mobile game revenue is sourced from microtransactions
91% of mobile game revenue comes from microtransactions.

Published Wed, May 2 2012 1:29 AM CDT
|
Updated Tue, Nov 3 2020 12:28 PM CST
Researcher Newzoo has gathered some very specific figures in a new study that included the top 200 grossing mobile games and survey results from 17,000 respondents. The study found that the US mobile gaming market has grown considerably, from 75 million to 101 million mobile gamers. Of these 101 million, 69-percent of them play games on smartphones, with 21-percent gaming on a tablet.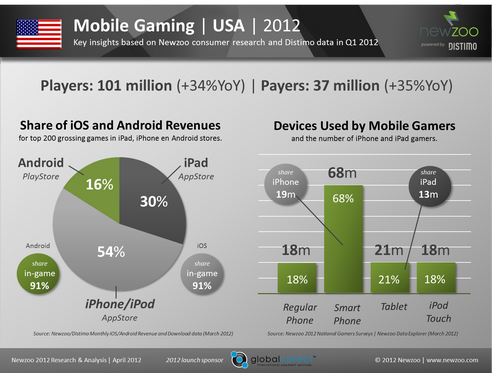 While there are many more players, and increasing amount of them are willing to pay for in-game content. The number of paying players has grown 35-percent to 37 million Americans, or 36-percent of all mobile gamers. Splitting these numbers up, we have 19 million American gamers on an iPhone, 18 million on an iPod touch, and 12.7 million on an iPad, keeping in mind that many people use multiple iOS-based devices.
As of last month, Apple's mobile devices combined were generating 84-percent of the revenue by the top 200 grossing games, which left Android with 16-percent of the US pie. The best bit of this, is that a majority of this money is generated from in-game microtransactions, and not titles bought outright. Newzoo CEO Peter Warman does have something to say about this, as there is one big difference between iOS and Android, that could explain the revenue discrepancy: Apple requires users to link credit card information to their accounts, with Warman adding:
I can hardly imagine any other company in the world that would be able to get away with this, including Google and Microsoft.
Related Tags