Acer has just announced their latest monitor on the block, the Acer B243PWL. This monitor features the premium IPS technology for great colors and wide viewing angles, up to 178-degrees both horizontally and vertically which makes it perfect for swivelling, pivoting and multi-monitor setups.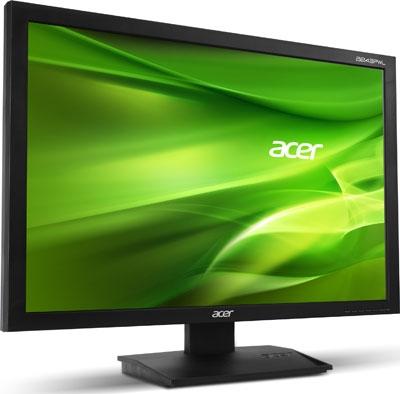 The B243PWL is also EPEAT Gold registered, meaning it has reached the highest caliber of EPEAT certification possible, where it has met all of EPEAT's environmental measures plus at least 75-percent of EPEAT's optional criteria. The B243PWL is LED-backlit which reduces energy consumption by 68-percent than standard CCFL-backlit displays.
Spec-wise, we're looking at a resolution of 1920x1200 and a 60Hz refresh rate. It sports DisplayPort, where it can deliver all of your digital imaging and audio through one small cable. The screen also features both a VGA and DVI connection in case you haven't got DisplayPort on your system yet. Filling out the specs, we're looking at 100,000,000:1 contrast ratio, and a brightness of 300 nits.
The Acer B243PWL is available through Acer's authorized resellers in the U.S. starting from $329.