Microsoft announces $300 million investment in Barnes & Noble's Nook business
Microsoft invests in Barnes & Noble's Nook business to the tune of $300 million.

Published Mon, Apr 30 2012 10:26 PM CDT
|
Updated Tue, Nov 3 2020 12:28 PM CST
Microsoft have just splashed out $300 million on an investment in Barnes & Noble's Nook digital-book business and college-text unit. This investment will see the Redmond-based company take a 17.6-percent stake in a new subsidiary temporarily known as Newco, with Barnes & Noble getting the remaining 82.4-percent while all pending litigation related to Android will be put to rest.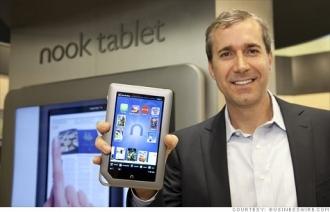 This new deal gives Barnes & Noble more power to fight off shareholders who have agitated for a sale of the Nook e-book business, or the entire company, in addition to relieving concerts that it doesn't have the capital to compete in the e-book business with heavy weight Amazon.com.
At the moment, Barnes & Nobile relies on a customized version of Google's Android OS for products such as the Nook Color and offers Nook reader apps for Android, iOS, OS X and Windows. The deal doesn't state whether this would change, but one of the first things to change would most likely be a Metro-style Nook e-reader app for Windows 8 available to users across the world. At the moment there's also no suggestion on whether we'll end up seeing a future Nook app on Windows Phone.
Barnes & Nobile CEO, William Lynch has talked of the deal between B&N and Microsoft saying that Microsoft are the "ideal partner" for Barnes & Noble, pointing out their massive user base:
Microsoft's investment in Newco, and our exciting collaboration to bring world-class digital reading technologies and content to the Windows platform and its hundreds of millions of users, will allow us to significantly expand the business.
Related Tags