Last week, we reported on the Ivy Bridge high temperatures, and whether it was because Intel used TIM instead of solder on the IHS, but now things seem to have changed. A PC EVA forum member has used a Core i7 3770K processor, slapped a Noctua NH-D14 CPU cooler and Prolimatech PK-1 thermal grease, and has tested the chip with and without the IHS on to see if there was a difference with thermal performance.
They used AIDA64 Extreme Edition for idle and load average temperature monitoring, with Prime95 smashing the CPU to generate load. Testing was done at 4.5Ghz with 1.2V on the core. The results?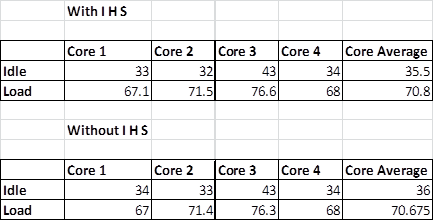 As we can see, even with the cheaper thermal paste and the IHS layer removed, the cooling performance is relatively unchanged. This also allows a 5-percent margin of error. This is another piece of evidence to show that the heating performance is nothing to do with the IHS, by most likely something to do with Ivy Bridge's revised manufacturing process. This means that an Ivy Bridge should reach lower stable 24/7 clock speeds than a Sandy Bridge chip, but offer it with lower power consumption numbers.
Does this make you happy? Or is it something you think Intel should've come out and talked about?