Support Huntington's Disease research and enter a raffle for a custom computer
Will Lyon is hosting a raffle of a custom computer mod to support Huntington's Disease.
Published Fri, Apr 27 2012 5:56 PM CDT
|
Updated Tue, Nov 3 2020 12:28 PM CST
Today has been a 'Friday Feel Good Day.' As reported earlier, TigerDirect teamed up with a Corsair and EVGA to make that computer that is being auctioned off on eBay. It's not the only charity build that's currently going on. Custom Case Modder Will Lyon has built a cool "Arctic Cat" themed case that he is now selling raffle tickets for. The proceeds from the raffle ticket sales go to support Huntington's Disease.

As originally posted by Will Lyon:
Help support a great cause and get a chance to win this custom rig built buy me. This rig includes lots of time and parts graciously donated by many great people and great companies! Huntington's Disease is a (currently) incurable and debilitating genetic disorder. You can help the HDSA to further their research and try to find a treatment or cure for this horrible disease. I personally am also giving away myr Arctic Cat computer to one lucky person who donates! All donations received will go go to the Huntington's Disease Society of America. The funds will enable the HDSA to continue their ongoing efforts to find a treatment or even a cure for Huntington's Disease. Just like with any other disease-related research they need all the help they can get! Me wife's best friend's mother died from Huntington's so the donations will be made to the HDSA in her name.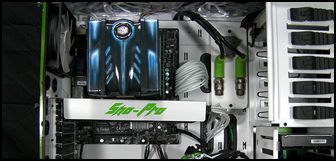 The hardware is not quite as top notch as the TigerDirect build, but this only costs a minimum of $10 to get an entry to the raffle. Portions of the build were supported by donations from NZXT, Thermaltake, Crucial, PCBoard.ca, Primo Customs, Auto Air Colors, and Airbrushingtips.net. The hardware is as follows:
NZXT Phantom Case

NZXT White 24-Pin, 8-Pin and 6-Pin sleeved extensions

Thermaltake TR2 RX 1000W PSU

Crucial 4GB DDR3-1333 Ballistic Tracer Green

Intel Core i3-2100 3.1 GHz (1155)

MSI H61M-E33 (B3)

XFX HD-585x-ZAFC 1GB Radeon 5850

Cooler Master V6 GT CPU Cooler

Windows 7 Home Premium 64-bit (installed and fully updated)

NEW! NZXT FZ fan setup. Set includes: 1x 140mm green LED in front intake, 1x 120mm non LED in rear exhaust and 2x 120mm green LED in side panel intake!
The rules are:
1. Limited to U.S. residents only due to shipping restrictions
2. Minimum donation amount is $10.00
3. Donators receive entries based on their donation amount, where $10 = 1 entry, $50 = 6 entries, $100 = 13 entries.
4. Donations will be collected until June 30th, 2012 at 11:59 PM Eastern Time
5. Donations can only be made via the PayPal widget on the Computers And Circuits donations page (link)
6. Prize includes one (1) custom built and painted Arctic Cat themed computer built by me, one (1) Arctic Cat 50th Anniversary mouse pad and one (1) TBCS T-shirt.
7. No other peripherals are included (mouse, keyboard, monitor, etc.)
8. A winner will be picked via random.org and announced on ComptuersAndCircuits.com, Computers And Circuits Facebook page and notified by email.
9. The winner will have 48 hours to respond with their shipping information.
If the chosen winner does not respond within 48 hours their winning will be forfeited and a new entry will be chosen.
10. Odds of winning depend on total number of entries received.
Questions can be directed to Will Lyon at will.lyon(at)computersandcircuits.com. Donations will be accepted until June 30, 2012 at 11:59PM Eastern Time. This raffle is not affiliated with TweakTown, but is for a good cause! More pictures are available in Will Lyon's original post here.
Related Tags