HP is working on x86 Windows 8 tablet, rough render exposed
A leaked slide from HP shows an early mock-up and spec list of an upcoming Windows 8 slate.
Published Fri, Apr 27 2012 5:34 PM CDT
|
Updated Tue, Nov 3 2020 12:28 PM CST
There are a few sources where Windows 8 news comes from: Microsoft and the companies who make devices that run Windows. This time the news comes from a "trusted source" who told Neowin about an upcoming x86 Windows 8 tablet that HP is building. It will be thinner than the iPad and have 8-10 hours of battery life.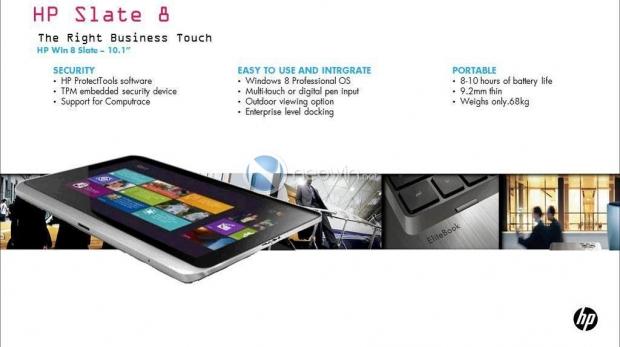 The new slate will have a 10.1-inch screen and be called the Slate 8. As far as the name, I think that it could catch due to it having a catchy rhyme. Since the device is targeted for businesses, it will not be ARM-based. This leaves one option: x86. The slide seen above is a bit rough around the edges, but the source is sure that this is a working spec list and the picture is an early mock-up.
With Windows 8 coming, many tablets are expected to hit the market around the launch, or shortly after. HP, after the TouchPad fiasco, will sure to be a front-runner in the market. If HP holds to the spec list above, then they should have a strong competitor to the iPad as long as they price it competitively.
Related Tags