Announcing the G.SKILL CUP, an extreme overclocking contest at HWBOT in May
G.SKILL is hosting an overclocking competition on HWBOT during the month of May.
Published
1 minute & 16 seconds read time
Following up the release of G.SKILL's new extreme TridentX DDR3, they have announced a new overclocking competition that will be running on HWBOT during the month of May. We would like to give our readers the announcement and rules so that they can enter and win the awesome prizes that are being offered. They are giving away 13 8GB RAM kits and 1 32GB RAM kit.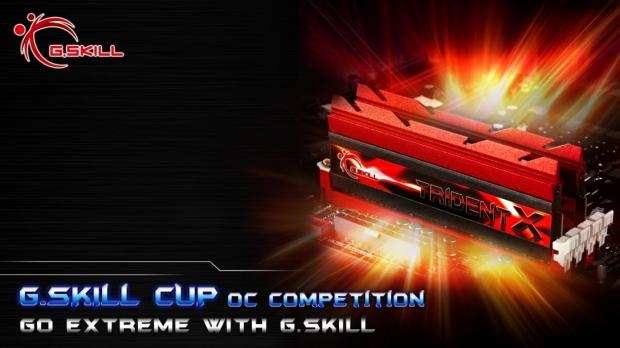 The competition will start May 1 and runs until May 30. The even consists of three different stages which all start May 1. You must use G.SKILL RAM to participate in all stages. Full rules and details are below along with the link to the event page. If you enter, let me be the first to wish you good luck. I wish I had G.SKILL RAM so that I could participate.
The three stages are:
Max Memory Clock (the highest memory frequency possible)

SuperPI 32M on ivy bridge platform (No limit on the frequency)

IGP 3DMark06
The rules are:
G.SKILL memory only (all stages)

Open platform choice (stage#1 and stage#3)

Submit scores with G.SKILL competition background (all stages)

CPUZ verification link (stage #1) and CPUZ memory tab in screenshot (all stages)

Picture of GSKILL memory and platform (all stages)
And now, the important part, the prizes:
Memory frequency world record: TridentX DDR3 2800MHz 8GB(2x4GB)

Stage #1 top 3: TridentX DDR3 2666MHz 8GB(2x4GB)

Stage #2 top 3: TridentX DDR3 2600MHz 8GB(2x4GB)

Stage #3 top 3: TridentX DDR3 2400MHz 8GB(2x4GB)

Overall champion: RipjawsZ DDR3 2400MHz 32GB(4x8GB)

Three Lucky draw winners: RipjawsX DDR3 2133MHz 8GB(2x4GB)
For more information, you can head on over to event page, which is also where you can register to participate.
Related Tags