What causes Ivy Bridge's high temperatures? It could be that Intel used TIM instead of solder for the IHS
Intel's move back to TIM instead of fluxless solder is most likely the root issue between Ivy's hot
Published Thu, Apr 26 2012 12:28 PM CDT
|
Updated Tue, Nov 3 2020 12:28 PM CST
Nearly every review of Ivy Bridge, including those that were done with engineering samples, has noted that Ivy Bridge runs up to 20*C hotter when overclocked than Sandy Bridge did. People were quick to jump to conclusions on why this was the case, and often these people had nothing to base the conclusions on.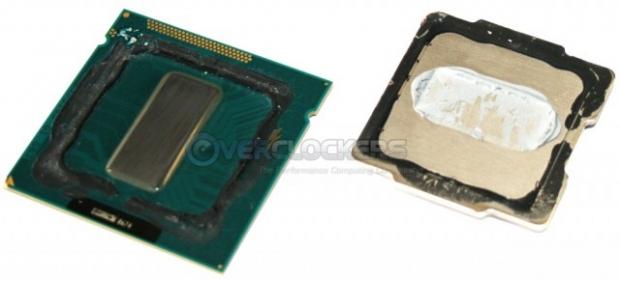 No, these conclusions that people were parroting across the web were wrong. The true answer resides in the fact that, apparently, Intel did not use fluxless solder to attach the IHS (that metal cover over the silicon die) to the Ivy Bridge die. Instead, they have gone back to an older way of doing things and used regular thermal interface material (TIM).
TIM has some major disadvantages to fluxless solder. The biggest, and root cause of this issue is the fact that it doesn't transfer heat nearly as well as fluxless solder. However, it does come with some advantages. You are able to remove the IHS without much risk of damaging the die itself. Could it be that Intel kept extreme overclockers in mind when making this decision? The issue is discussed in more detail at the source below.
Related Tags