G.SKILL announces new TridentX DDR3 memory kit for Ivy Bridge and Z77
G.SKILL releases new high performance memory to compliment Ivy Bridge.
Published Tue, Apr 24 2012 9:09 AM CDT
|
Updated Tue, Nov 3 2020 12:28 PM CST
With the launch of Ivy Bridge successfully completed, other companies now get to launch their new equipment that compliments the features of Ivy Bridge. One of the first up in the RAM department is G.SKILL. G.SKILL is no noob when it comes to high performance RAM, so these new sticks are expected to amaze.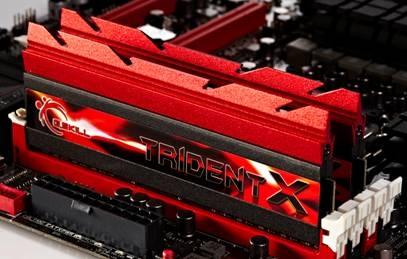 And, they do! The modules feature some innovative features such as removable heat spreaders and are overclocking headroom, even with their already high stock speed. The new modules range from from 2400MHz 8GB to 2800MHz 16GB. According to the release, "the TridentX 2800MHz 16GB kit has successfully achieved DDR3 3320MHz speed," so these modules are no slouches.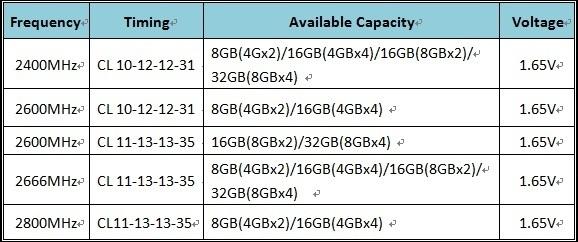 The full press release can be seen below:
April 23th 2012, G.SKILL, the worldwide leading high performance memory designer, has announced the new TridentX DDR3 memory kit for 3rd Generation Intel Core Processors and Z77 platform.

The ultimate speed up to DDR3 2800MHz 16GB(4GBx4) & DDR3 2666MHz 32GB(8GBx4)

Designed for overclocking enthusiasts, the TridentX series includes a complete lineup of extreme performance DDR3 memory, starting from 2400MHz 8GB to 2800MHz 16GB. The following screens show the TridentX 2800MHz 16GB kit has successfully achieved DDR3 3320MHz speed, while the 32GB 2666MHz kit has achieved DDR3 2933MHz speed, both results are with 4 DIMMs fully installed under LN2.

DDR3 3320MHz 16GB DDR3 2933MHz 32GB

CPU: Core i7 3770K CPU: Core i7 3770K

Motherboard: ASUS Maximus V Formula Motherboard: ASUS Maximus V GENE

Removable Top Fin

Featuring with a removable top fin design, the new TridentX heat-spreader allows overclocking enthusiasts to have more flexible options of memory cooling systems, as well as to reduce the height to fit with large CPU coolers. For detail guideline, please visit the following link.

Specification

Frequency

Timing

Available Capacity

Voltage

2400MHz

CL 10-12-12-31

8GB(4Gx2)/16GB(4GBx4)/16GB(8GBx2)/

32GB(8GBx4)

1.65V

2600MHz

CL 10-12-12-31

8GB(4GBx2)/16GB(4GBx4)

1.65V

2600MHz

CL 11-13-13-35

16GB(8GBx2)/32GB(8GBx4)

1.65V

2666MHz

CL 11-13-13-35

8GB(4GBx2)/16GB(4GBx4)/16GB(8GBx2)/

32GB(8GBx4)

1.65V

2800MHz

CL11-13-13-35

8GB(4GBx2)/16GB(4GBx4)

1.65V

XMP 1.3 Ready

All G.SKILL TridentX kits come with the latest Intel XMP 1.3 standard developed for the Z77 platform. It provides PC enthusiasts an entirely trouble free overclocking experience to boost their Z77 systems for extreme levels of performance, while retaining system stability.

All G.SKILL memory products come with a lifetime warranty and the G.SKILL technical team is always ready to provide consumers with complete technical support via online forums, telephone and email.

About G.SKILL

Established in 1989 by computer hardware enthusiasts, G.SKILL is a leading memory & Solid State Drive manufacturer based in Taipei, Taiwan. The company's top priority is quality. All of the products undergo a series of the most rigorous tests and strict quality control processes. In addition to a committed, qualified IC testing house to examine the products, all G.SKILL products are 100% tested to ensure the highest yield, reliability and quality
Related Tags