Batman: Arkham City has not only been popular with shipping numbers, but it now has confirmed DLC. Warner Bros. have confirmed that the Harley Quinn's Revenge DLC will add more than two hours of completely new gameplay to the campaign.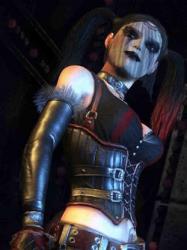 Also included on the disc are all five previously released DLC packs. Warner also added that anyone who already owns the game can download the Harley Quinn's Revenge Pack which will be available to all international markets starting on April 30 from the PlayStation Network and Xbox Live Marketplace.
Warner Bros. also confirmed a Game of the Year Edition of Batman: Arkham City, which will sport:
The DLC included on disc includes the Catwoman Pack, Nightwing Bundle Pack, Robin Bundle Pack, Challenge Map Pack and Arkham City Skins Pack.

Maps: Wayne Manor, Main Hall, Freight Train, Black Mask, The Joker's Carnival, Iceberg Long, and Batcave.

Playable Characters: Catwoman, Robin and Nightwing.

Skins: 1970s Batsuit, Year One Batman, The Dark Knight Returns, Earth One Batman, Batman Beyond Batman, Animated Batman, Sinestro Corps Batman, Long Hallowe'en Catwoman, Animated Catwoman, Animated Robin, Red Robin and Animated Nightwing.
The GOTY Edition hits on the 7th of September for the PS3 and Xbox 360 in the UK, over three months after the US has it made available to them.