Pixel Qi founder, Mary Lou Jepsen, has revealed that her company is working on a super-dense version of its signature display. The new panel sports the same resolution as Apple's third-generation iPad, 2048x1536, but does so whilst using less power.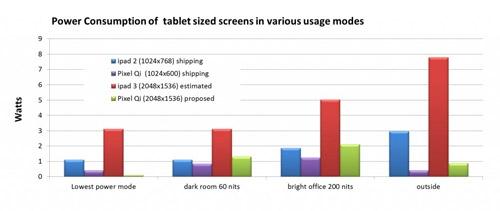 In a bright office, the new panel coming in at around 10-inches uses two watts of power, compared to Apple's iPad in the same lighting which uses five, and when outdoors, nearly eight watts of power. The new Pixel Qi display provides a more e-paper-like effect for readability outdoors. The newest panel is a special low-power mode which uses around 0.08 watts when in dim light, compared to the iPad which would use three.
Development is said to still be in the early stages and needed hardware partners lined up. Jepsen wouldn't say when the new screen would be available, but we should expect a 2013 release at the earliest.
Whilst this is great news, Apple are already on the market with their display. By the time Pixel Qi's screen makes it to the market, other players would've entered, and Apple could've perfected their new, new iPad when it arrives later this year, or early-2013.