Something I've covered in my various editorials, that mobile SoC (system-on-a-chip) graphics performance will pass console level performance soon, and NVIDIA agrees with me. NVIDIA predicts mobile SoC graphics performance will surpass the Xbox 360 graphical capabilities by 2014. More so, mobile GPUs are expected to equal the graphics processing power of the Xbox 360 by next year.
NVIDIA provided a slide, which in usual fashion doesn't look like it makes a hell of a lot of sense, to Anandtech, highlighting how far graphics performance has come since 2001, and where they expect it to go by 2014. The solid lines in the chart are estimated performance, while the dotted lines represent trends.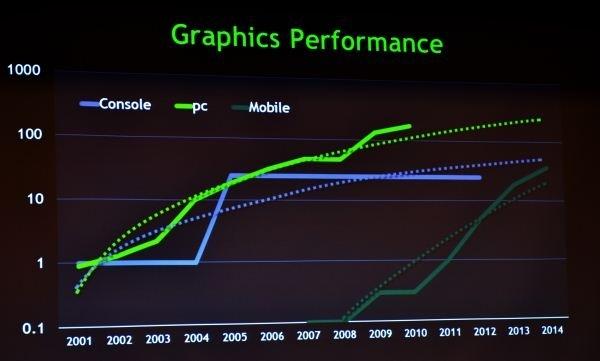 The console line starts in 2001 with the release of the NVIDIA-powered Xbox, and continues with the ATI-powered Xbox 360 released in 2005. You can see it flatline as its released, as the hardware doesn't change. Mobile GPU is shown from 2007 with the release of the first iPhone and moves through to Tegra 2 and existing Tegra 3 parts. The solid green line are presumably NVIDIA GPUs throughout the years.
Looking at the chart, for me, is weird in the fact that we see on the left "1, 10, 100". I'm guessing this is magnitudes of power. So, are NVIDIA saying that the Xbox 360 is around 30 times more powerful than the original Xbox? Some explanation on this chart would be nice. But, we can see mobile GPUs are on a very upward trend, and we should see them surpass consoles soon enough.
It also helps with the new iPad having a 2048x1536 resolution screen, and having games run comfortably on that will help mobile GPU development more than people would expect. Considering the Xbox 360 runs over 90-percent of its games at less than 1280x720 at up to 30fps.