ASUS and Pegatron enjoy quite the relationship, but 2012 is the year of the end of everything, and ASUS now have plans to end their ODM (Original Design Manufacturer) partnership with Pegatron. ASUS first have plans to decrease ODM production of motherboards from Pegatron which will start mid way through the year, after which they'll completely end their ODM relationship by Q3 2012, according to component manufacturers.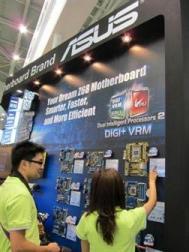 After ending their ODM partnership with Pegatron, ASUS will have other companies stand up and take ODM motherboard production, these companies are: Thailand-based Cal-Comp Electronics, Taiwan-based Global Brands Manufacture, Info-Tek and Elitegroup Computer Systems (ECS). ECS and ASUS aren't strangers to each other, either, as ECS has been an ODM of graphics cards for ASUS.
Notebook-wise, ASUS have set up ODM cooperation with Foxconn Electronics, Quanta Computer and Compal Electronics, and will reduce production by Pegatron too, the sources added. Considering Pegatron was a spun off from ASUS, it's clear that ASUS want to cut relations between the companies.
But, it's hard for ASUS to seek other ODMs capable of producing high-quality high-end motherboards to replace the already great Pegatron. Gigabyte and MSI have the technological capability, but they're competitors of ASUS and will not undertake ODM production.