Popular social drawing game Draw Something, has been updated. I woke up this morning and on the drive to my day job, pulled over as I was early and checked my e-mail, Facebook, etc. The first thing I noticed is that I had multiple friends talking about an update to Draw Something. Well, it's quite the update indeed.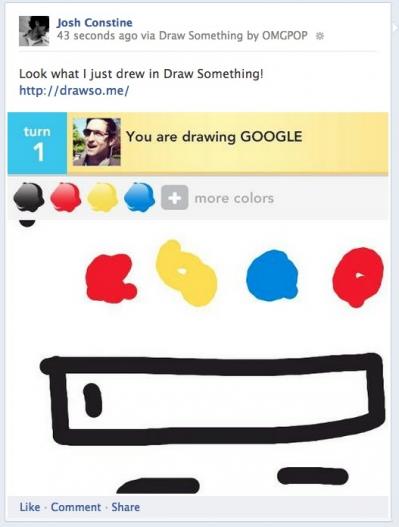 The new update sports some more social elements that feel perfectly suited to the game, first up when you finish drawing or guessing you can send a comment to your partner. This will be a perfect feature for giving people a little clue to your drawing. Some people will use this to say what the drawing itself is, but people already write the word as the drawing, like my Mom and Sister do to collect coins - cheats.
Before the update, if you wanted to share your drawing you had to screenshot and then upload through Facebook or Twitter, now the sharing is made much easier, where it allows you to upload directly to Facebook or Twitter, and is accompanied by a https://drawso.me URL leading to the Draw Something app download page. Filling out the new features is the ability to pull down on your current games screen to refresh and see if its your turn to draw yet, and let you undo the last line your drew.
These updates are good, but it still needs something else. It needs a Game Show type of feel, a sense of rush and excitement. There should be a multiplayer aspect, where you can team up with friends, or have timed sessions to draw, or draw more than one drawing at once (say 3 within 60 seconds). Now that would be fun.
Head on over to the App Store or Google Play store to update!