Until today, music streaming services in Australia have been quite lacklustre, if existant at all. Yes, you could use a VPN or other methods, but its not the same and most people don't know how to do it, which means the masses are left without anything like Spotify, etc. Until today.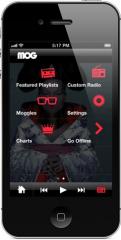 Telstra has announced a deal with subscription music service, MOG, where they will soon offer unlimited, on-demand access to more than 15 million songs, streamed to their smart device (mobile, tablets, etc), computer, or certain Smart TVs. The service will be ad-free, and offer unlimited music on connected devices for less than the price of a CD each month.
On top of the unlimited music, the service offers:
On-demand streaming: Unlimited, ad-free listening to any artist, album, or song at any time. MOG's HTML5, browser-based player delivers music to you blazingly fast on the web.

Unlimited downloads: MOG allows users to download and store music on your phone, enabling access to music even when a data connection is unavailable - ideal for jetsetters.

MOG radio: Best-in-class, personal radio that builds a an endless playlist based on the artist you select. If you want more variety, just move the slider to the right to introduce similar artists to the playlist.

Personalised recommendations: The "Just for you" dashboard provides music recommendations based on your MOG listening habits and your artist "likes" on Facebook.

Highest quality audio: MOG streams music at 320kbps, giving customers a high quality listening experience.

Curated content: Explore all MOG has to offer through its complete guide. From New Releases, Editor's Picks, top Charts, Featured Playlists, and Custom Radio in addition to your own, tagged songs from within the MOG music service, you will find exactly what they're looking for (and more).