The on-going multiple wars that the United States are knee-deep in probably won't stop anytime soon, and will most likely only get worse from here on out if everyone we're being fed on the news is right: Iran, North Korea and those pesky "terrorists" that the U.S. government fund left, right and centre. But, the latest step that the United State Department of Defense is working on is something very interesting indeed.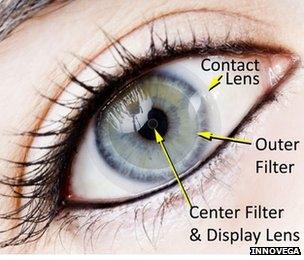 The U.S. DoD have signed a contract with Innovega, a Washington-based firm for development and testing of its dual-focus contact lenses. The technology would make it possible to project a HUD (heads-up display) onto the center of each lens, while keeping it in-focus regardless where the wearer is looking.
This would really just give the soldier a game-like HUD, where he could view his health stats, armor, and XP - on a serious note, the soldier could see details like notes from superiors, real-time maps, satellite view, and more. We're already seeing the consumer level of this technology from Google in the form of their Project Glass.
Interesting to see where the future of technology is, we're really looking at combining a cyber lifestyle, with our body and person. It simultaneously scares me, and makes me want it oh so much.