Intel is now pushing more information out on their Windows 8-based tablets during a conference in Beijing. The goals Intel have set for themselves are, well, quite a stretch, but if they pull them off I'm willing to say they will definitely have a strong iPad competitor.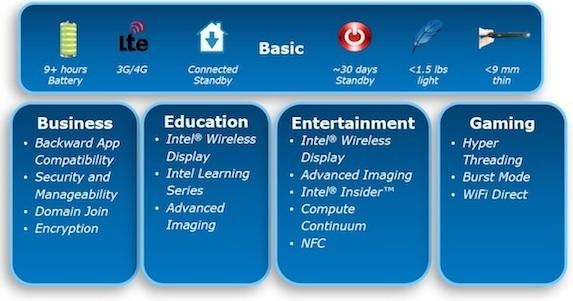 Intel-powered Windows 8 tablets will sport an Atom Z2760 "Clover Trail" chip, a dual-core CPU with "burst mode" (which provides quick bursts of performance when required) and Hyper-Threading, which lets the dual-core chip act like a quad-core, again, when needed.
Intel are looking to have two tablet designs, a 10-inch tablets to verse all the tablets out now, such as the iPad, and hybrid 11-inch designs with physical keyboards. Battery life is king here, with Intel boasting 9+ hours of battery life, and roughly 30 days of standby. Remember this is just on paper right now, real-world testing will surely be less than that.
3G/4G connectivity is also another "basic" feature for Intel. Weight and thickness is another big talking point, and we're looking at less than 1.5 pounds, compared to the new iPad which weighs 1.44 pounds, this is great news. Thickness, we're looking at under 9mm, compared to the new iPad at 9.4mm. If Intel can hit these points, they will definitely have a strong contender here.
As I've said previously, I'm quite excited about what Microsoft are going to achieve with Windows 8 and tablets. When companies like Intel get into the mix, it only gets my excitement level building.