Sony launched their wearable device gadget, SmartWatch, in the U.K. before the U.S. but now U.S.-based gadget lovers can get in on the SmartWatch action. Sony have made the watch available in the State for just $149. Not too bad, if you ask me.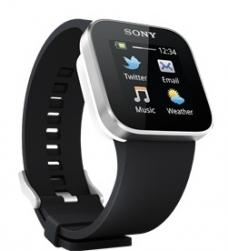 Don't know what the SmartWatch is? Yeah, neither did I until I saw it today. Sony's SmartWatch is a normal watch, which reads the time, etc - all from a 1.3-inch OLED display, that is also capable of displaying users e-mails, text messages, control of your music, and more. It connects to any Bluetooth-enabled Android 2.1-based (and above) device, and requires an app on your device to be installed.
You know what? I don't wear a watch, but I seriously want one now. For $149 it is not too badly priced, and I do rock Samsung's Android-powered GALAXY S II smartphone. I've noticed most comments on this in the social sphere, and on other tech sites is quite negative. Maybe because those iOS-based people are jelly. UMADBRAH? I'm sure Apple will have one in 3-4 years, and call it "iWatch", it'll be revolutionary, resolutionary and timeolutionary? New word, yeah. I know.