We reviewed (in both text, and video) the new iPad, and loved it. But how much does the rest of the world love Apple's latest tablet creation? A lot, it seems. A new study by analytics analyst firm Chitika, has suggested that the third-generation iPads in Internet traffic has doubled since the initial four-day launch window.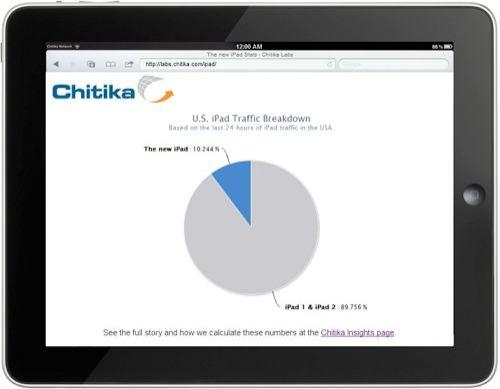 The new iPad now makes up around 10-percent of all iPads surfing the web only three weeks after it splashed down. Online tracking metrics aren't a direct method of measuring sales, but it does help. Apple announced four days after the new iPad launched that they had sold 3 million units worldwide, and Chitika have noted that this figure correlated into about 5-percent presence of all iPad traffic, correlating with Apple's own total figure of around 55 million iPads sold up until that point.
If this growth continues, we could be looking at 12 million units sold by the time Apple's fiscal Q2 comes around, and 15 million new iPads sold overall by the end of June. The iPad makes up around 60-percent of all tablets shipped, with online usage rates indicated that in most areas the iPad is responsible for up to 90-percent of tablet web traffic. Some very impressive digits for the Cupertino-based company.