Intel have announced something out of the blue today, a reference design for a new 7-inch tablet that has quite the special ability: it can run either Windows 7 or Android operating systems. The 7-inch tablet would sport Intel's Atom processor, and would be tailored to students and developing countries.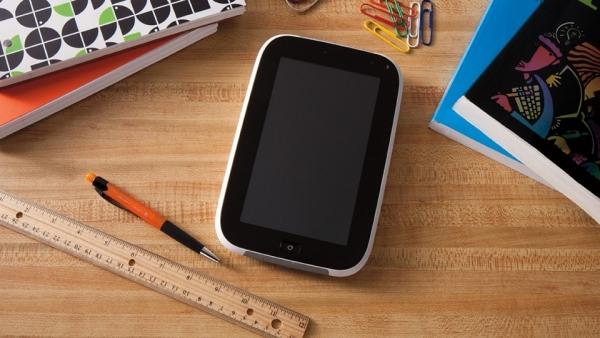 Intel's "Studybook" is made from a single piece of plastic that is designed to resist liquid spills and survive up to a 27-inch drop onto concrete. The Studybook sports a rubber band reinforcing the bezel and around the ports to keep sand and other elements out. The 7-inch tablet weighs in at 525 grams, with the reference design featuring a 1.2GHz Intel Z650 Atom "Oak Trail" CPU, 1GB of RAM, a 1024x600-pixel capacitive touch screen, USB 2.0, HDMI, microSD/SIM slots, WI-Fi, dual cameras and varying storage from 4GB to 32GB.
Battery life isn't too bad, with Intel rating it at 5.5 hours on active usage, which is quite poor compared to the iPad and Android-based tablets that are hitting 10 or so hours on a single charge. The Studybook does have a trick up its sleeve, though: it can run either Windows 7 or Android 3.0 Honeycomb. Windows 7 will be available first, with Android ready by mid-summer. Intel will also bundle e-reader, note-taking and drawing apps, as well as digital textbooks from Kno.com and other education-based apps.
The Studybook won't be manufactured by Intel, but by licensees who will distribute it to local OEMs. This means that pricing won't be given out by Intel, but they do believe that manufacturers who use this design could sell the finished product for between $199 and $299.