I always love new product announcements because they give me something to look forward to. Tuesday, Toshiba obliged me by announcing a new line of tablets dubbed the "Excite" family. These new tablets will come in 7.7-inch, 10-inch, and 13-inch sizes, and all will have Tegra 3 quad-core processors.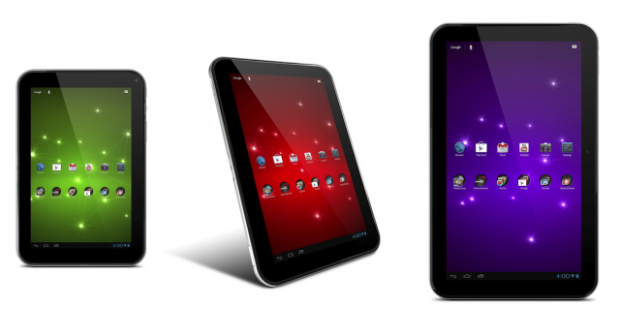 All of the WiFi-only Excite tablets will sport 1GB of RAM. They will come with the now common place front and rear camera, which are 2-megapixels and 5-megapixels, respectively. The 13-inch tablet will weigh in at 2.2 pounds and feature a 1600x900 screen and provide a respectable 13 hours of battery life. It is only 0.4-inches thick.
The lesser Excite 10 will sport a 1280x800 screen, weigh in at 1.32 pounds, and is only 0.35-inches thick. It is said that it will get 10 hours of battery life, but we all know how those rated times go. The two bigger tablets will both get an SD card slot and the smallest will get a microSD slot.
The Excite 7.7 will start at $499.99, the Excite 10 at $449.99, and the Excite 13 at $649.99, all for 16GB of storage. The Excite 10 will launch first on May 6, followed by the Excites 7.7 and 13 on June 10. It will be interesting to see how it stacks up against the competition. More as it comes.